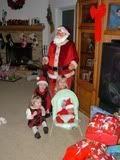 "And I'm gonna get one." - PM
So this is the end of RJ. All I have left is Jeff Bailey, and he's likely gone like Saharan sands. They should make him the manager. It would a give a whole new meaning to coaching "sessions".
No, seriously, is Todd Claus going to take the job? Bob Tewksbury? Merloni? AGHCK. I don't like Merloni very much.
former Red Sox players who could manage in Pawtucket:
1. Bill Mueller. YES!!!! This would be beyond BEYOND.
2. Curtis Leskanic... I guess not. Pitchers don't usually get this job.
3. Mirabelli? No. NO WAY.
4. Trot Nixon? Probably not. But that would be killer.
It'll probably be Gary DiSarcina or someone equally as boring. What about one of the Cliburn brothers? I would be all over that. Or Eric Wedge. Or Bob Zupcik.
How about Mo Vaughn?
In a related story, I was listening to a Bruins game on the radio and I swear... I SWEAR!!!... the PA guy is the guy from McCoy Stadium. Please, if someone can confirm this I would do anything. This poor guy gets no pub. He's not even listed in the annual PawSox program.