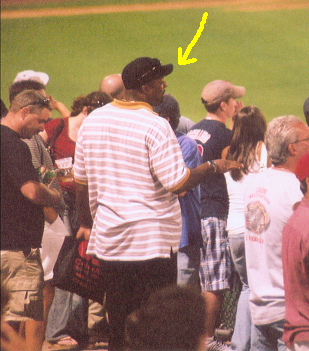 I recently had occasion to attend a Boston ballgame. Everyone knows what happened so I don't need to rehash it. I'm pretty sore, though: I left after the game ended. How STUPID of me.
Before I headed down to Kenmore to breathe and die on the subway, I made a quick stop to powder my nose. The line was considerable. Someone blatantly cut in front of me. Someone huge. Someone I'd seen before. A broad back in a thin t-shirt almost pressed back into my nose. Six and half feet tall. I heard a little kid say, "Sam, what are you doing?" I made little fists and gently pummeled the man in front of me. By then I knew who it was. Who else could it be?
He finally turned around and said, "I think I'm in the wrong line."
The photo above is from about a month ago, in the barbecue tent, in Pawtucket. I only do posed photos with J-Kap.