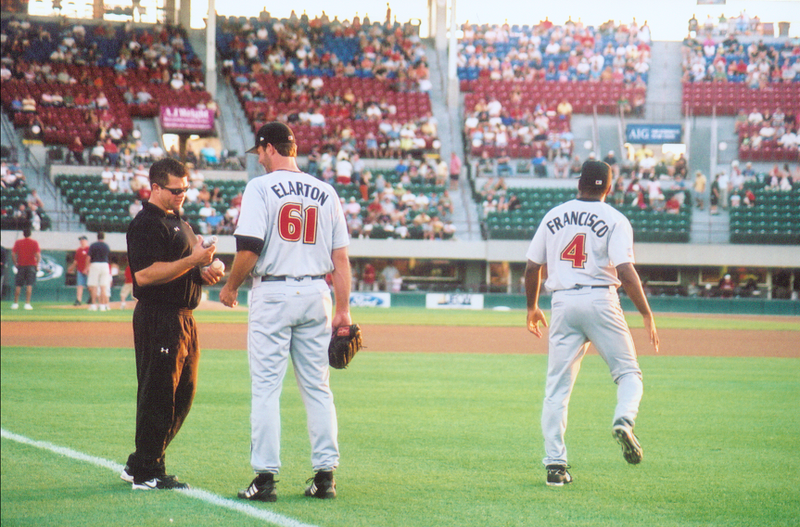 Congratulations to Ben Francisco who batted .318 for the Bisons (Cleveland) and WON the IL Batting Title. And it JUST SO HAPPENS that I have a sweet snap of BF himself with Sometimer S. Elarton. Jacoby Ellsbury came in 9th (.298) and first for Pawtucket. Just above Darnell McDonald.
Hitting streaker Brandon Watson (Columbus) (.313) came in third.
IL Doubles Leader: Brandon Moss! (41). The Mud Hens(DET) Timo Perez came in second with 39.
Triples: Shortstops Brian Bixler (Indianapolis Indians) and Alberto Gonzalez (S-W/B) tied at 10. Many people tied at nine and eight. Bobby Scales led Pawtucket with 8.
Home runs: Toledo Mud Hens Mike Hessman hit 31. Brandon Moss had the high count for Pawtucket with 16.
RBI: Hessman AGAIN with 101. And Brandon Moss takes it for the PawSox with 78, 7th in the IL.
Walks: Toledo's Chris Shelton with 83. B-Moss leads Pawtucket with 61 (10th in IL). Former Boston great Mark Bellhorn came in 8th.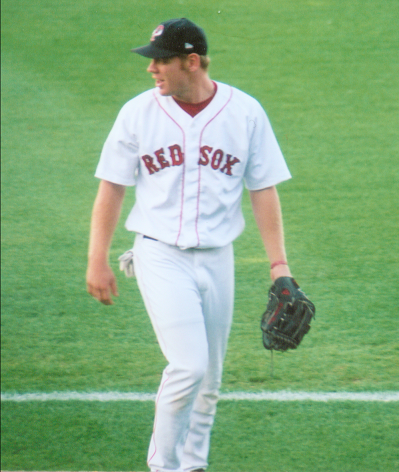 Stolen Bases: Columbus Clippers' second baseman Bernie Castro had 34. Jacoby Ellsbury and Darnell McDonald were tied at second place with 33. So close, Jake.
OBP: Commando Unit Leader Jack Hannahan of the Toledo Kill Hens mowed down the opposition with .422. Number one at McCoy was Bobby Scales with .373. Mark Bellhorn was tied for 5th place in the IL.
The Buffalo Bisons led the IL in OBP (.341). The IL wild card winning Richmond Braves had the highest batting average (.271). Pawtucket was DFL with .254. The Toledo Mud Hens won the RBI race with 633. Unfortunately, they were swept by the Durham Bulls in the IL playoffs. The Yankees and the Braves are still going at it.