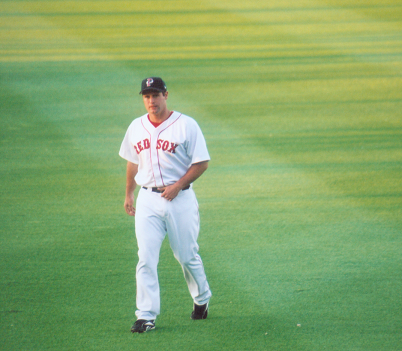 Chris Carter is a big 25 year first-base type from California who can hit. He can't field all that great but he's gotten better. Arm not strong enough for LF. He graduated from Stanford (pre-med), which qualifies him as the guy on the team most likely to be nicknamed "Einstein".
The Nationals got CC from Arizona in exchange for Emiliano Fruto, then they shipped him up to Boston for WMP. Emiliano Fruto was not available for comment. Conor Jackson sort of kept Carter stuck at AAA.
two things:
1.Some people say that Carter could be Boston's starting first baseman after Lowell leaves and Youkilis switches back to third. Yeah? Well, some people also wear fleece-lined Crocs.
2. Chris claims to have been a big Boston fan growing up. He says Lenny Dinardo told him how great the fans were. Lenny Dinardo said that?
3. Crater Chris is doing Arizona Fall League.
That's it. If you want specific stats you know where to find them.