Durham Bulls win, 5-2, and they are the AAA affiliate of Tampa Bay. Bulls reliever Adam Liberatore gets the win, even though I think he's related to an umpire? Loss goes to lefty starter for the Red Sox Chris Hernandez.
Hernandez pitched 5 1/3 innings, gave up five runs on four hits. Only two runs were earned, though, because Garin Cecchini made an error that maybe cost Pawtucket the game.
Nate Karns started for Durham. Karns pitched five innings and gave up a run. That was when Pawtucket tied the game. The thing that happened was that Corey Brown hit a solo home run. I may have mentioned that before. And then Hernandez was 1-2-3 at the bottom of the fifth.
So, what the fuck happened? Shut up for a second and I'll tell you. First of all, minor league games tied at 1-1 in the fifth seldom remain that way. Dewon Brazelton and Jeff Suppan were not on the mound, okay? Sixth inning, Christian Vazquez and Travis Shaw hit back-to-back singles to get things heated up for Pawtucket. Vazquez scored on a groundout, and the Red Sox pulled ahead 2-1.
Bottom of the sixth, Hernandez led the inning off by hitting Robby Price with a pitch. Robby Price parks like an asshole, so he probably deserved it. SS Hak-Ju Lee followed with a line drive single. And then RAY FREAKING OLMEDO sac bunted. And he reached!
Bases loaded, no outs for a possibly sweat-drenched Hernandez. I'm just saying, it was 84 degrees at game time. RF Justin Christian reached on a force attempt, boner by Cecchini, Price scores. Center fielder Mikie Mahtook hit a fly ball to right, caught by Brown, Lee tags and scores.
PITCHING CHANGE! Chris Resop gets in the ring to face Jayson Nix. Christian steals second, Nix sac flies, Olmedo scores. Then jerkface Cole Figueroa hit an RBI double. The fans must have been eating this up.
Resop finally got the last out, but Pawtucket was unable to do anything with CJ Riefenhauser or Kirby Yates. DAT NINTH INNING THO. The bases were loaded with only one out, partially due to a catcher interference thing. Wish I could have seen it. But Yates got Betts and Cecchini out to end the game.
Oh yeah Mookie Betts is on the PawSox now so adjust your confetti output accordingly.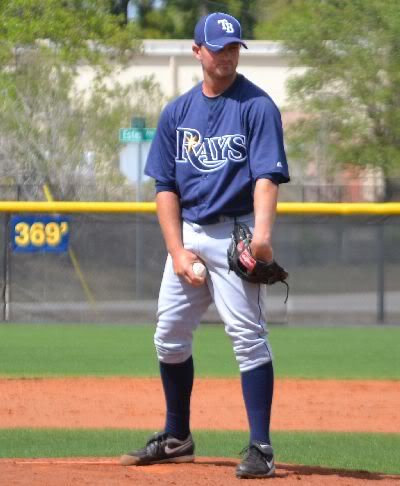 two things:
1. Ray Olmedo! Olmedo has spent more than TEN YEARS in the International League. That has to be some kind of record. I'll bet he knows all the Fort Mill hotspots. I wonder if he still talks to Yurendell de Caster?
2. "The hottest pitcher in the Rays organization right now just might be
Nate Karns
. He entered his outing against Pawtucket with a 1.39 ERA in his previous five starts, striking out 31 while walking just 12 in 32.1 innings pitched." -
Robbie Knopf
, Rays Colored Glasses. That's right, his hands are never cold.
3. Jeremy Kehrt pitched, so his mom is probably pretty excited about that.
4. Kirby Yates was the 2013 minor league pitcher of the year for TB. I'm not capitalizing that.
5. Here's
Rick Medeiros
. I like his blog. I realize that now you won't think I'm cool.
TONIGHT! Probably the Babyfaced Killer. Chad Gaudin goes for the Bulls.
(hahaha)