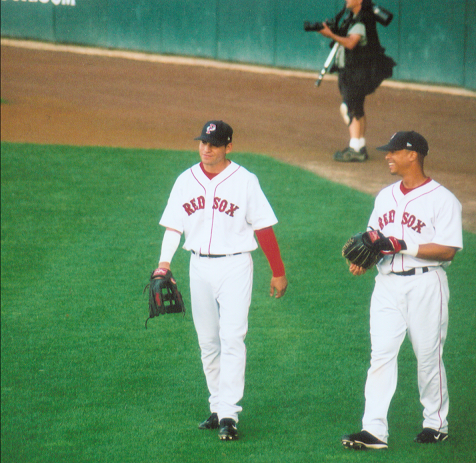 Here we have Boston Fans' crushbaby Ellsbury with Pawtucket Fly Honey Ed Rogers. Ed Rogers (Favorite movie: Count of Monte Cristo) hoisted his bat up on the last day and passed it up to a kid in the stands. By all accounts ER was a sweet guy and it's too bad his injuries kept him from playing toward the end.
Rogers finished up with a .290 OBP. Whoa. No triples, 6 HR, 35 RBI. Okay, so he wasn't awesome. Rogers had 14 errors, second only to... come on, guess! Who was the crappiest fielder in Pawtucket? Remember, I hated him? Yes, Chad Spann had 16. And he wasn't even there the whole year!
Edit: Hey, isn't that ROYCE CLAYTON with Ellsbury? Not Ed Rogers but ROYCE CLAYTON? Well, yeah.