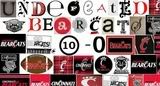 Pawtucket Red Sox radio guy Dan Hoard occasionally subs in for the Cincinnati Reds. And guess what? Reds TV announcer george Grande has retired. Hoard probably could have gotten the job, but Thom Brennaman did. As in, Marty Brennaman's son.
Here are a few comments from around the world regarding his gigs:
1. From
John Kiesewetter's TV and Media blog
: "Hoard has done a great job on Reds broadcasts. He was my choice to replace Steve Stewart, when nobody knew that Thom Brennaman wanted to come home and work with his dad. Hoard can do play-by-play for TV or radio (if needed), and he's proven that he does his homework and can weave in stories about players ala Marty, Thom or the Dodgers' Vin Scully. Hoard is very good and deserves the chance. Between 150 Reds TV games (when Thom isn't working), and the UC football and basketball on WLW-AM, Hoard would have year-round work to bring him back here full-time. Hoard has done AAA Pawtucket Red Sox games waiting to be called up to the majors. This should be his chance." Damn it.
2. Comment from
'Redleg Nation'
: "I don't mind Kelch, but why not Dan Hoard? I think the Reds missed again on the radio broadcasting hire, kind of like in the Steve Stewart deal. I guess it's nice they rewarded a guy whose been in the organization, but I think Hoard is a better all around announcer."
3. From
the Wight Pages
: "Dan Hoard, voice of the Triple A Pawtucket Red Sox, has a history in Cincinnati. He broadcasts football and basketball for the University of Cincinnati and has filled in several times for the Reds. In my opinion, Hoard would fit in perfectly as the Reds full-time television play-by-play man."
I should have written this back in October.