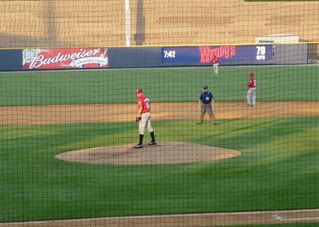 I've got the time
and
I've got the beer, so let's get to know Jason Bergmann. You know, so I don't hate him without facts to back it up.
Earlier this month, Boston signed Bergmann to a minor league deal. Bergmann was a frequent visitor to McCoy Stadium (And McCoy
has certainly had its share of visitors
) with the Chiefs. I remember him well as Some IL Reliever on a Visiting Team!
Bergmann is a
29-year-old righty
who was drafted 11th round by the Expos back in 2002. Feels like the Expos have been gone longer than that, doesn't it?
JB has ridden the Expos/Nats train all the way til now, so he may need some time to adjust. Although Rhode Island's almost the same thing as him home state of
New Jersey
, so that'll be comforting. Like a Quaalude.
No, I didn't mean it like that!
1. The Nationals released Bergmann because they were
going in a different direction
. You know who needs to go in a different direction? The Dropkick Murphys!
2. Insightful comment by 'bdrube' -
"It should be noted that Bergmann is the only Nats player other than Ryan Zimmerman to have played at least one game with the Ntas each of their six seasons in Washington."
(from 'Nationals Locker')(ibid.)
3. After being outrighted to the minors in April 2010, Bergmann said,
"I've grown up with the Nationals my whole career. Obviously, I want to play in the Major Leagues. I'm confident in my abilities and I will be back with the Nationals. If no one wanted to pick me up, that's fine. But I have a chance to go back down to Syracuse, do my best and come back up."
(
All Nats All the Time
)
4. Ooooh, sarcastic fat guy! "Adios Jason Bergmann..I wonder when Rizzo will release a statement on his loss and how much he means to the Nats history and that he will always be part of the Nats family!???" (from commenter 'Harper_ROY_2012' on
'Nats Insider'
)
5. "From starter to reliever to AAA fodder, Bergmann ran the gauntlet of MLB dreams and nightmares. Inconsistent, it became obviously clear Bergmann was not going to be a mainstay, but it was baffling seeing the Nats run him out to the mound year after year as it was thought the JB Experiment was long over. Now they put the puppy to bed." (
Nationals Inquisition
, OCT 2010)
6. Jason Bergmann, somebody out there
loves your ass
.
7. Bergmann
really liked
Elijah Dukes. Didn't we all?
8.
Manalapan!
9. Bergmann
got mad this one time
when he pitched poorly in DC.
10. "Bergmann made his MLB debut in late August of the Nats' inaugural season in D.C. in 2005, replacing Mike Stanton on the mound in old RFK Stadium with the bases loaded in the 8th inning of a game the Nationals trailed 3-0 to the St. Louis Cardinals. Bergmann gave up a two-run single on a 2-0 pitch to Abraham Nunez that scored two of the three runners the then-23-year-old right hander had inherited, but Bergmann got a grounder back to the mound from the next batter to record his first major league out and then he came back on in the ninth and retired the three Cardinals he faced, collecting his first 3 K's, all of them swinging. " - from
'Federal Baseball'
11. Bergmann was a
hot topic
in June of 2008: "Bergmann also had nine K's per nine innings over his four starts and a gaudy 5:1 strikeout-to-walk ratio"
12. Was Bergmann a Phillies killer? "He is such a scrub but current Phillies are batting .215 with an OBP of .289 vs. this bum in 135 ABs, and former Phillies also sucked against him who aren't included on here (Burrell 5/19 w/ 0 HRs, 2 RBI, and 7 Ks and Pedro Feliz 2/10, 1 RBI, 0 XBH)" - from commenter 'Stu' on
'The Recliner GM'
)
13. Bergmann once
took a no-hitter into the eighth
. The ruiner? Brian McCann.
14. Cy Bergmann? Thoughful analysis
here
.
15. Bergmann
used to substitute teach
in the off-season.
16. "I got fired from my job today," Bergmann said. "It's the hardest thing to deal with. It's probably the worst day of my life right now." (Bergmann on being released, from the
Nationals Journal
)
17. Jason Bergmann = Nolan Ryan? "what the fuck is going on? how come the braves can't score on this loser? jesus christ, the fuckin 90s atlanta braves pitchin staff traveled to the future and dressed up in washington nationals uniforms to play the atlanta braves of today. unfuckingreal." - commenter 'TakeIt2DaBank' on
'The RX Forum'
18. Bergmann
loves you guys
.
19. Bergmann on umpires: "Developing a relationship with umpires is no different than one with any other person. If you are courteous and respectful, they will be as well. Umpires are people and are as unbiased as possible in their job. We cannot forget the human element that goes with their job and yes, they make mistakes." -
Nationals Journal
20. And Bergmann's rookie hazing: "[M]y shoelaces were all cut, my gloves were missing, my pants were stuffed with crushed ice, my hat was "eye-blacked," my jersey was shrinkwrapped among other things. I ran out to the field a few minutes late wearing non-cleats, my eye-blacked hat, the glove of an infielder, my freezing pants and the such." (The such?) (ibid.)
Good news, everyone! I gotta beat it downtown. See you tomorrow? I'm starting to think we're 'going out'!