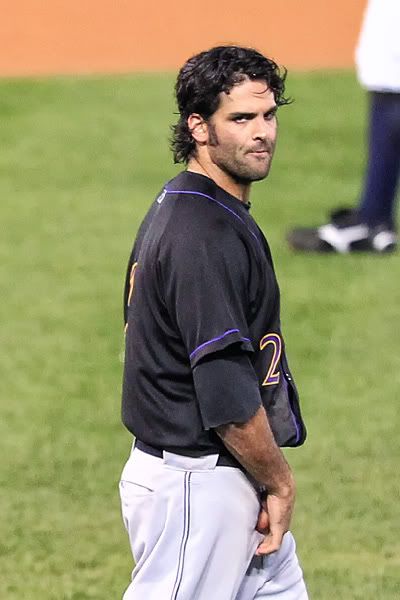 Chiefs win, 4-3. Win goes to Yunesky Maya and although the Chiefs are the Blue Jays starting again this year, I feel like Maya was on the Chiefs last season when they were the Nationals. Am I crazy?
Yes, I am obviously fucking nuts, because the Bisons are the Blue Jays and the Chiefs are still the Nationals. Please bear with.
Starting pitcher for the Pawtucket Yankees was Steven Wright, the Knucklehead Kid. Ball, head, whatev. Wright pitched six innings and the Chiefs were all, OH HI THERE HANGER and got seven hits that included a pair of homers. The hits led to all four Syracuse runs, meaning the Red Sox relief corps did a smashing job. So thanks for this.
Yunesky Maya started for Syracuse.
I think I might have mentioned that before.
Maya pitched five innings, then a mob of relievers came trampling in. Christian Garcia, Tanner Roark, Tyler Robertson, Michael Broadway. You mean like Lance Broadway? And wasn't there another Broadway?
First inning, Chiefs scored a run on a sac fly. Third inning, same thing. Fourth inning, Mike Costanzo (who has always had a for-real dickface) and Zach Walters hit back-to-back home runs to RF. 4-0 Chiefs!
In the fifth inning, Pawtucket second baseman and bastion of crushworthiness Justin Henry hit a solo home run. Do you remember how Bill Mueller was kind of... I mean, I don't mean to belittle or demean Bill Mueller, who was legit, but there was something... He was a basket of kittens at third base, is what I mean. And so goes Justin Henry.
Eighth inning, Jackie Bradley hit an RBI double. Jackie Bradley could also be considered a cutie-pie... CAN SOMEONE PLEASE STOP ME?!
Bryce Brentz hit a solo home run in the ninth. Brentz is a little too square-jawed to be considered adorable. I'm sure he'd be wounded if he found out I said that.
This game was two hours and 22 minutes long and played in front of 8,218 fans. Right. There was a two hour, twenty minute rain delay and more than eight thousand people were there. In Syracuse. Also, I attend church most Sundays! I'll tell you I'm an orphan after you meet my family!
two things:
1. "Roark has a sting of 24.2 straight innings of pitching without yielding an earned run." - Yes,
Ben Meyers
, those innings certainly do sting.
2. Jackie Bradley Jr played center and batted leadoff. Lavarnway - catcher, batted third. Who else do you assholes like? Alex Wilson? Wilson pitched a scoreless inning.
3. "Wright, the Pawtucket knuckleballer with one career appearance in the major leagues, struggled with control from the opening inning. His first pitch of the night plunked Chiefs' leadoff hitter Eury Perez on the left elbow, and catcher Ryan Lavarnway made his first trip to the mound one batter latter." - I guess
Michael Cohen can't spell either
. This game story is great, though, and it was Education Day so the fan count was probably accurate. Sorry I was such a jerk about it. I'll settle in with some tea and scripture.
4. Also,
cool picture of the grounds crew
who likely worked their fannies off during this wet, wet series.
By the way, I'm sure Mike Costanzo is a lovely guy.
Like Santa Claus
.
No baseball today, which is totally cool because everyone wants to watch hockey anyway. Thursday night is Legends Night at McCoy, featuring
Father Bernie Carbo
and Bill Lee. I think Rubby De La Rosa is going to pitch v the Bisons and the kissable Ricky Romero.
And... I need to be a little candid for a second and reveal that although I am recovering from surgery and was sick and all of that, the reason I haven't been around is because I have almost completely lost interest in this PawSox stuff. Which is really too bad, because damn I'm good. But really, I didn't attend the welcome back lunch or PawSox bowling or blah blah blah... And this season's team is one I can really root for!
My IronPigs trip's coming soon and I hope my pleasure and interest will be restored. Not ready to hang it up yet, you guys.
All my love...