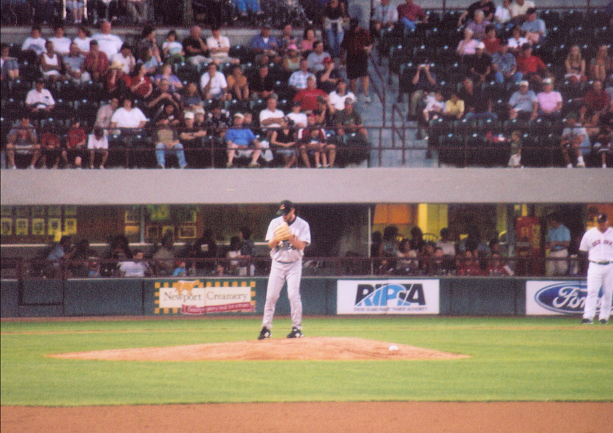 The first Boston Red Sox game I ever went to was in Texas.
It was back in 2002, and my sisters and I had decided to visit the other side of the family down in Louisiana. Very small, sleepy town, battered by intense August heat. And it just so happened that the Red Sox were playing the Rangers in Arlington.
In the past, I had resisted going to Boston games. I thought the price was outrageous. But I had been caught in the massive sucking vortex of fandom, and so I agreed. We decided to drive out to Texas from Louisiana to see a game. The drive took hours... Five? Six? And it was hot the way you can imagine Texas being hot in August. Lots of brownish scrub in between traffic jams, miles of flat heat and cattle, until downtown Dallas and that weird sparkle-bank that looks like an Earth, Wind and Fire microphone.
And then we were there. The ballpark was not really near anything... Well, the big amusement park and a convention center, but it might as well have been in an industrial park. Fans were eating baskets of fried catfish and drinking cowboy beer. In the heat, the beer was irresistible. We drank tall, tall cups of it and ate glorious nachos.
I don't remember much about
the game
. I think Derek Lowe pitched. But it was great, my first Red Sox game, in such an unlikely park. And me not understanding how big it was because I'd never been to Fenway. I think if you're trying to go to every ballpark in big league ball, Texas would be one of the last ones to check off for most people. But I did that one first!
And now I never have to go to Texas again.
Great game last night. I loved the Yankees fans making for the exits when the Rangers started grooving in the ninth. I can't believe Cliff Lee pitched at McCoy Stadium... I just cannot (I was in the tent that day and watched him walk past me from the bullpen. He tossed a ball in the air and a little girl caught it with one hand. Lee quietly said...'Good catch'). And that's one thing I'll never take for granted and probably the best thing about Pawtucket. The visitors who pass through on their way to superstar heights of filthy pitching and Yankee destruction.
GIANTS RANGERS WS!!! THIS MUST HAPPEN!!! I HOPE YOU FUCKING DIE AJ BURNETT!!!!
I love you guys.