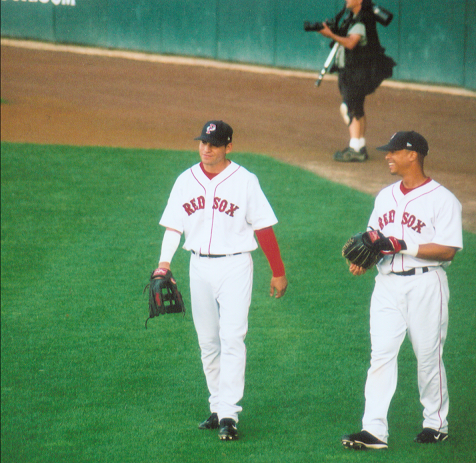 Jacoby
Ellsbury is an outfielder who played in Pawtucket in 2007. He was 23 years old.
Through
his
87 games in Pawtucket, Jerkberry batted .298 and struck out more than he walked (47 K, 32 BB). He stole 33 bases, placing him in a tie for second in the International League. He was tied with... Darnell McDonald! The dude in first stole 34, but it was in 118 games, so... Well, mathematically,
Ellsbury
stole .379 per game and the other dude stole .288. Which is a useless number because how do you steal less than one base but more than zero bases per game? I think I've made my point, though. I just expressed it poorly.
Oh, wait,
Ellsbury
rehabbed in 2010. Four games. He went 5-17. And,
oh
christ, the controversy.
Two things:
1.
Ohkay, first of all, I LOOOOVE Jacoby Ellsbury! He is the MOST VALUABLE PLAYER on the RED SOX. And by the way, thanks (i (heart) Jacoby Ellsbury) for the email address.

And on your home page it says you were gunna keep things up to date, which you didn't! One of your pages say he's twenty three. He's TWENTY-SIX! And on one page it says he's 186 pounds, when on another page it says he's 185.

YOU DON'T DESERVE TO HAVE THIS SITE NAME! Delete the site so I can make a site called www.jacobyellsbury.webs.com, because mine would actually keeps it's promises and keep him up to date!
-
source
2. When Ellsbury rehabbed in 2010, it was on Jacoby Ellsbury Bobblehead Night. It was
the first time
a player appeared simultaneously with his bobblehead.
And separately, but relatedly, here are some Ellsbury quotes written by ME almost four years ago now:
1. "His mom made the best fry bread..."
2. "Jacoby Ellsbury update: Ellsbury singled, doubled, tripled, and stole a base. He also scrapes his cleats cleaner than anyone on the team."
3. "Ellsbury stole a base. Pfft. One-trick pony."
4. "Bobby Livingston pitched the first complete game shutout for Louisville in three years. Jacoby Ellsbury beat out a bunt to first in the sixth inning and then got caught in a rundown. Ellsbury eluded the tag, though. Livingston had this to say:
'Jacoby's a fast guy. When I swung the tag he juked me. I tried to dive back and put my glove in front of the bag, but he beat me to it.'
Wow, juked by Ellsbury!"
Jacoby Ellsbury's in the middle of the first base tower. Paz afuera!