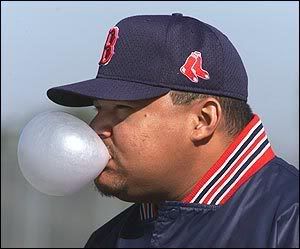 Rich
Garces
is a right-handed pitcher who played for the Pawtucket Red Sox in 1996, 1997, 1998, and 1999. That is impressive. Give him the key to the city, Mayor Doyle! Too bad Garces is missing out on Pawtucket eventually becoming a
major legal marijuana hub.
What a time we live in!
Garces' first Pawtucket year, 1996, saw him pitching a little over 15 innings in relief. He got zero losses, which is more than I can say for guys like TJ Large. Garces was 25 years old at the time.
In 1997,
Garces
had 26 relief appearances and got five saves. I don't even think my psyche could handle watching
RG
trot out from the bullpen. It must have brought the house down. If only someone had filmed it.... I could loop it and watch it over and over. Here
he
comes!
The next year
Garces
only appeared in seven games, but SPACE! 1999 was another big time Pawtucket season for
him
. Twenty-one appearances and seven saves. With zero losses! What the fuck was I doing with my life in 1999 that I was missing all of this? Oh God, it's the year 'Smooth' came out! They're still playing that goddamn song!!! GAAAAH IT'S THE YEAR 'MEET VIRGINIA' CAME OUT!
Turn it off, man, turn it off!
And that was
it
for Rich
Garces'
Pawtucket career. He missed out on the whole Division St Bridge mess.
Two things:
1. "my favorite player all time has got to be Rich Garces... every time he pitched i cracked up... he would have to take a break half way from the bullpen to the pound [sic] because he was so tired.. what a funny person." posted by 'Steinbrennerisanazi' on
Talksox message board
2. The nickname 'El Guapo'
originated right here in Pawtucket
. You can thank Mike Maddux for that, and also thank him for remembering to bring the napkins.
Rich Garces' mural is located in the upper portion of the third base tower.
Note: TJ Large is gone. I think I knew that already but forgot.
Also: Isn't this mural project fantastic? It's a lot of work! I am doing such a great job. WITH NO RECOGNITION. I think I should be on television. Let me just take some vitamins
so I can fit into my red dress...