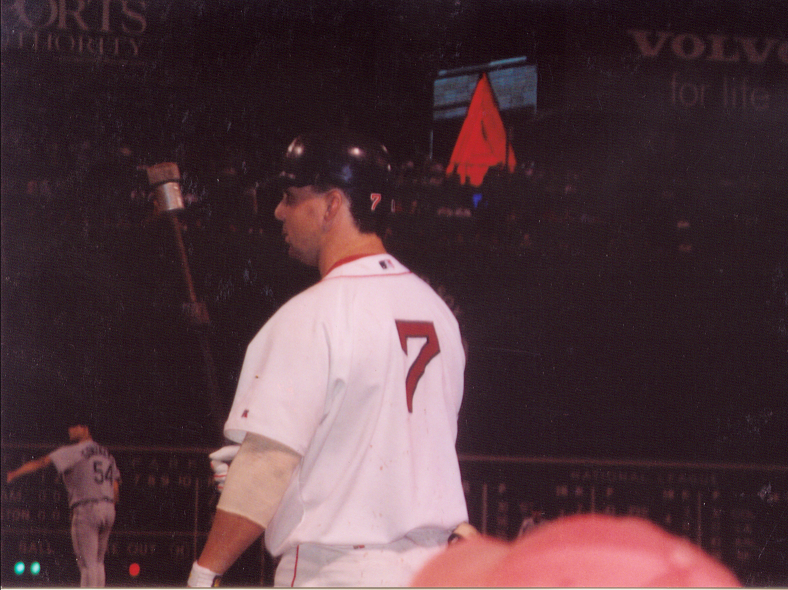 Trot Nixon is an
outfielder
who played for the Pawtucket Red Sox in 1997 and 1998.
Nixon
also played in a handful of rehab games in 2004,
2005
, and
2006.
In 1997, at age 23, Nixon played in 130 games. He batted .244 with a .331 OBP and was slightly strikeout prone. Nixon hit 20 home runs that season. He also made four fielding errors in the
McCoy
outfield.
In
1998
, Nixon's numbers improved and he stole the hearts of PawSox fans all over New England. And Olde England, really. He hit 23 home runs. Strikeouts went down, walks went up. I mean, if you put Walks on one end of a see-saw and Strikeouts came waddling over and sat on the other end, yeah, Walks' feet would be dangling. But if Nixon's Walks bounced hard enough, they may have been able to lift up Strikeouts a little.
Nixon's average that season was .331 and his OBP was .400.
He
was hit by a pitch five times and IBB'd six times. Grrrr! And THAT is why Ken Macha
batted him third
instead of second that year!
Nixon led the team that year in the following categories:
Games played (135)
Home runs (23)
RBI (74)
Stolen bases (26)
Hits (158)
Walks (76) (Third overall in the International League)
Granted, if you look at the 1998 PawSox roster, there are lots of guys that no one's ever heard of, but still. By the way, if you look at hitting leaders in the IL that season, you may be surprised at the stats of one mashing Brian Daubach. I had no idea he was such a beast.
A quick look at Nixon's
misc
rehabbing
time: He
hit
one home run and a combined 4 RBI. Thanks for the help! I was there for some of it but it looks like I chose to neither write about nor take pictures of the happenings. And that is because I am terrible at this.
Two things:
1.
I played two years in Pawtucket. They have the best fans in baseball. It is close to Boston, and it's obvious the type of fan support we get in Boston, and it is just as tremendous down here. It is one of the best minor league cities in baseball. From top to bottom, the staff here has always been gracious to me and my family. Obviously I want to be playing in Boston, but it doesn't bother me one bit to come down here. - Nixon
2. "Pawtucket had Trot Nixon leading off on a rehab assignment, going 1-for-4 ... with an error on a dropped fly ball in the setting sun." - from
11th and Washington
, 6/2004. I recommend reading
this terrific story
, which is an account of a trip to RI and McCoy Stadium.
Trot Nixon. For anyone who ever loved an outfielder. He's in the upper portion of the first base tower and I am not sure that I have ever seen his mural. Don't worry, that'll be remedied this season when I go cry and snot all over his mural.