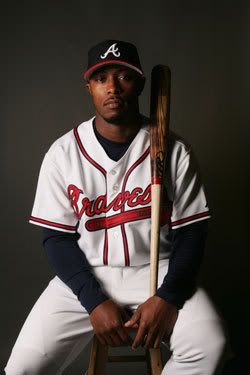 My favorite ballpark souvenir is a program. Whenever someone I know goes to a non-local ballgame, I ask very nicely if they can get me a program.
So when a co-worker was headed for Atlanta, guess what I asked for? YES. And the Atlanta Braves program might be the best one I've ever gotten. Thick and glossy and well put together. And of course, they pose a set group of questions to guys on the team to maybe reveal a little bit about their personalities. These questions are kind of pointless and generic but really reveal the inner dullness of professional jocks.
Willie Harris. Remember him? 2006? Big bowl of Pawtucket with a dash of Boston? Good guy, nice to the kids? Small and fast? The anti-Dustan Mohr? Harris wound up on the Braves last year and really had a great time for himself, especially the night he went six for six with four singles, two triples, six RBI, four runs scored and a stolen base. And when he was asked what TV show he watched regularly, he replied:
"Sanford and Son. It's hilarious."
WOW. A man who appreciates the classics. Amid all the 'Seinfeld' and 'Friends' and 'American Idol' and 'Survivor' that his teammates chose, he picks the classic sitcom 'Sanford and Son'. And he's right... it IS hilarious. It also has probably one of the greatest TV themes of all time. I bust it out at work every now and then. My boss loves it.