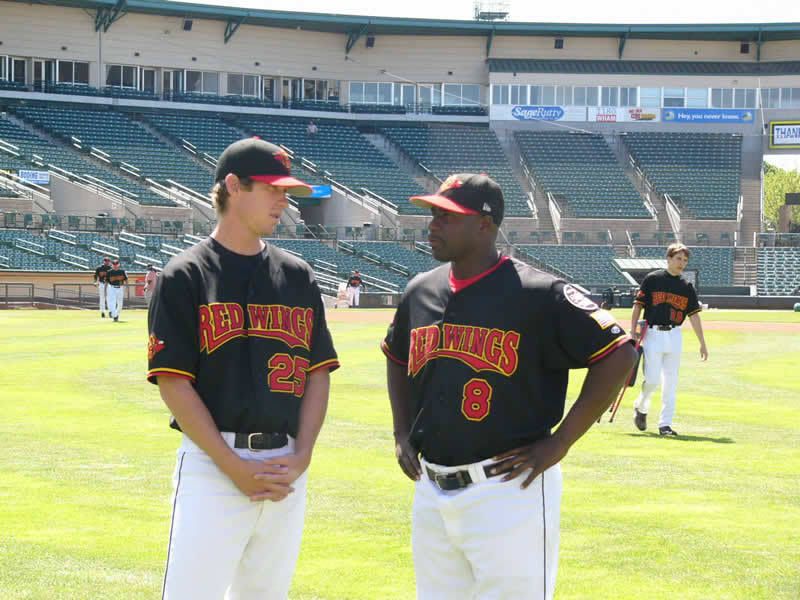 RWB: A question many of us would like to ask: what was the day like when you found out you were getting promoted to the big leagues? I'm sure that for a period of 48 hours or so it's probably crazier than anything we could possibly imagine, with packing your stuff, calling your family and friends, and getting to the airport to get out of town.
TW:" I remember before they told me, a couple of us were in the (batting) cage. They said we have a meeting with about three of us left to still hit. We were like "What do we have a meeting for? We just had a monthly meeting not too long ago." So we get in and they (Manager Stan Cliburn and Twins GM Terry Ryan) just start talking to us. They said, "One of you guys is going up." I kind of got light-headed. I didn't know who they were going to say. After they told me in front of the whole team, I didn't know what to say. I was speechless. I had tears in my eyes, it was just a good moment."
RWB
: Who was the first person you saw when you got to Kansas City?
TW: "The first person I saw was Mike Herman, the Twins' PR guy. I went into (Manager Ron) Gardenhire's office, I set my bags down outside his office and went in to talk to him, and I was kind of scared because I didn't't know what to expect. After I talked to Gardenhire I came out and my bags were missing, so I didn't know what happened with that. A lot of guys came over to me and they were happy for me. After that I still didn't know where my bags were but they were missing for a while. I got a uniform on and went out to hit in the cage, and came back and sat in front of my locker. It was a day game, and Torii (Hunter) came by and said, "You better get out there, the game starts in 15 minutes." And I was like, "15 minutes?" And I went out there and ran a little ...I was ready, but I wasn't ready, you know? I mean, I was terrified and excited all at once. So after the game we caught the bus to the airport, to go to Anaheim. I had my carry-on bag, I wasn't really thinking about my other stuff honestly. So we get to LA, get on the bus, go to the hotel, get off the bus and none of the players grab luggage or anything like that, like in the minors. We get in and Torii's like, "Get ready, we're going to dinner." And I said, "Wait, where's my luggage?" And he said not to worry about it, they would bring it up to the room. It was like magic, all that stuff just gets taken care of."
In other news, the Twins are not a good team this year. I read somewhere that they are projected to finish last in their division and that is just so sad. I could have seen the Twins in Milwaukee, but I chose the Astros. The ASTROS. Just think about that.
The Twins called me the other day but did not leave a message. I'm sure they wanted to commend me on my fine journalism. And guess what? The 'W' on the Twins jersey is just an upside-down 'M'. Go look!