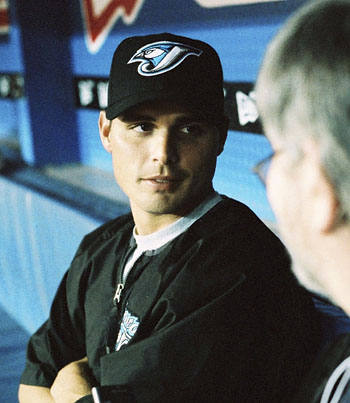 Kevin Cash - my favorite Pawtucket catcher in 2007 - GONE! Free agent!
Very little is known about Kevin Cash. Here's what I have:
1. Not originally a catcher! Cash was a SS/3B guy. Filled in at C one day in 1999 and some crazy Blue Jays scout happened to see him. Got converted.
2. Cape Cod League participant.
3. K-Money
podcast
. Uh, wow.
4. BP 2004: "A latter-day delight cut from the same cloth that gave us Jim Sundberg, Cash has been able to gun down more than 40% of runners over the last two years. He's a nifty job-sharing partner with Myers in an offense-defense platoon, with the question being which half survives Quiroz's arrival in 2005. Cash would rot behind Quiroz, but after a year as a part-time starter, he'll have value in trade. As a regular, he'll be adequate, and seeing the sort of money that gets thrown at the less-than-adequate Brad Ausmus or Mike Matheny, he must just hit the jackpot."
5. Middle name: Forrest. Enjoys hunting and fishing in his spare time.
6. Teammates with JD Drew at Florida State.
Okay, seriously. Enough.