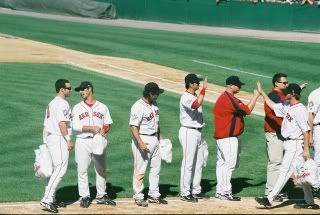 How did I miss this week-old news? The Angels descended from heaven and lifted Gil Velazquez up, up in the sky.
Oh, wait, I know how I missed it! His departure was
nothing more than an aside
. Velazquez deserves better! He seemed like a good guy. I mean, it's easy to seem nice when you're surrounded by meatheads, but seriously. Gil Velazquez was one of my favorites. And now he's gone and I hate everything.
In a related story, former outfield disaster Chris Carter is Rays property. This means, in all likelihood, that Carter's gonna turn up at McCoy like a bad penny with the Durham Bulls. Last time this happened, they played his old at-bat song and I almost threw up. See that? I'm a small, petty person who gets all bitter when someone popular is universally adored.
Either that or I know that Carter was not the super-swell guy he made himself out to be.
Chili Davis, hitting coach! The sawhorse people must be beside themselves right now. And I totally changed my mind and I WILL be attending the PRSHSP. Mostly for the Q and A. I promise I won't get too annoyed when they bring the mike over to a kid so he can ask Jason Rice what he likes on his pizza.
I'm kidding! SHUT UP, KID, AND LET THE GROWN-UPS ASK SOME REAL QUESTIONS!!!!
No, really, I'm kidding.