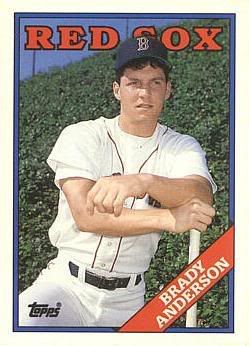 Brady
Anderson
was an outfielder who played for Pawtucket in 1987-88 from age 23-24. In 1987,
Anderson
batted .380
in
23 games. His OBP was .484.
In 1988,
Anderson
batted .287 in 49 games, placing him 11th overall in the IL. All told, in his time in Pawtucket,
he
hit only 6 home runs.
What an innocent time for
Brady
!
Two things:
1. "Brady Anderson was the best center fielder that I ever had when I was managing at Pawtucket," said Rox coach Ed Nottle. -
The Enterprise
2. In '88, Baseball America picked Anderson as the
top rookie prospect
in the AL East.
Brady Anderson's trim, uninteresting physique is located in the upper portion of the first base tower.