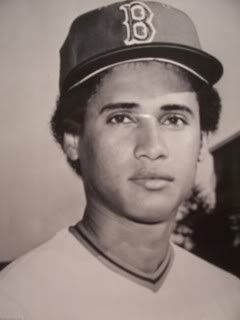 Juan
Beniquez
played for the Pawtucket Red Sox first when they were a double-A team (1970) and then in 1973.
Beniquez
played short, outfield, third and second. But mostly outfield and shortstop. And then outfield, 'cause he was a terrible infielder.
In 1973, at age 23, Beniquez batted .298 in 131 games.
He
hit 13 home runs nad led the team in runs with 80. This run total placed
him
fourth in the IL.
Two things:
1. Steal second? Don't mind if I do, said Beniquez. He was second place in the IL for stolen bases in 1973.
2. Probably most shocking of all is that Beniquez
won the IL batting title
in '73 with his .298 average.
Juan Beniquez' stately portrait is located in the middle portion of the third base tower.