6-5 Buffalo. Lincoln Holdzkom ruins everyone's Christmas.
Kyle Snyder pitched three innings and left with a run, a walk, and a strikeout. Edgar Martinez pitched 2 2/3 and gave up another run. Jose Vaquedano finished off the sixth inning and pitched the seventh, giving up one run on three hits. Lincoln Holdzkom fell apart like a Chinese motorcycle in the eighth, giving up three runs to give Buffalo the lead after walking two and giving up two hits. IT SHOULD HAVE BEEN YOU, LINCOLN!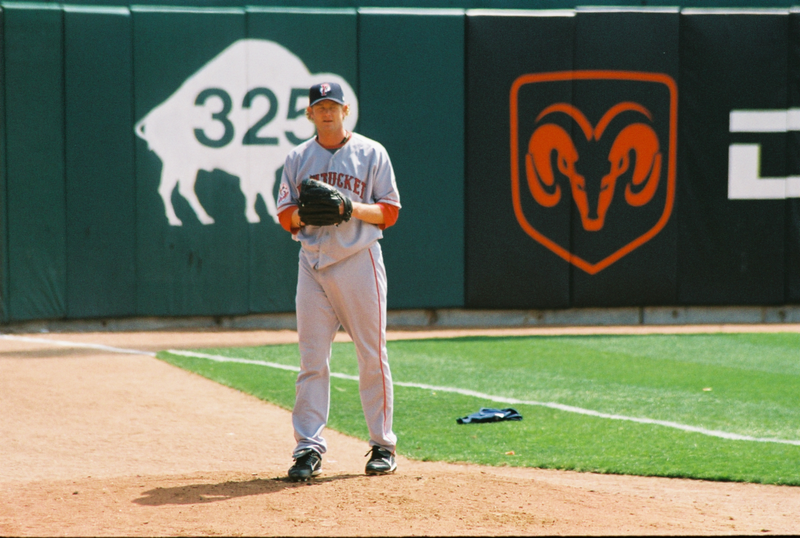 Buffalo starter Brian Slocum went 4 1/3 innings and gave up four runs on seven hits. Two of the hits were home runs. There was
some relief
work, but I don't care and neither should you.
Chad Spann doubled tonight. He was seen sweating and twitching on second base and asking Bisons' shortstop Danny Sandoval, "What do I do? WHAT DO I DO?". Jed Lowrie also doubled, which was nice. Joe Thurston hit his first home run! Jeff Bailey also homered, making it his fourth in three games, and had three RBI for the night.
Chris Carter went 0-5 with a strikeout.
Josh Barfield and Ryan Mulhern doubled for Buffalo. Jason Cooper homered off Edgah. Sounds about right.
Pawtucket HAD this game going into the eighth. Holdzkom kinda sucks, doesn't he?
hole in one or two:
1. Did you know that Coco Crisp uses a wicked heavy bat? Heaver than Ortiz or Manny's? He does, it's huge! Jeff Bailey uses it for batting practice.
2. You might say, wow, Jeff Bailey's doing great with all the home runs and whatnot. He is fourth in the International League. But the massive and mighty Mike Hessman of the Toledo Mudhens has 17! That is CRAZY!
3. Bailey's also fifth in OBP, sixth in OPS.
4. Bartolo Colon should start on Thursday in Buffalo. Colon is a former Bison AND the only pitcher to throw a no-hitter at Dunn Tire Park.
see you tomorrow