3-2 Pawtucket, 4 game series SPLIT!
David Pauley went six innings. Five hits, two runs. Most of his trouble came in the sixth inning, when designated hitter Josh Lanbandeira led off the inning with a solo home run. Pauley then proceeded to give up a double and a single and really owes Gil Velazquez a beer for a flashy 6-3 to get the third out. Pauley also struck out five batters.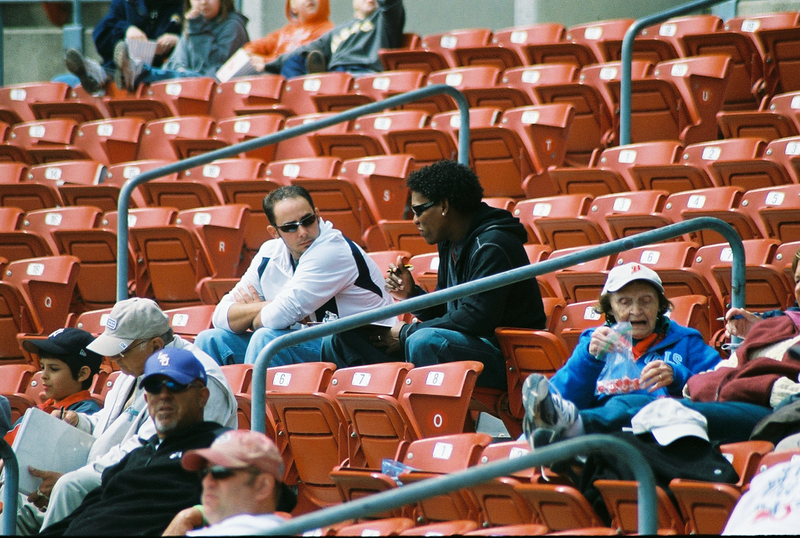 Chris Smith has been a great reliever. Smith pitched two perfect innings of no-hit relief. I like it! Bryan Corey pitched the ninth and got the save.
Durham lefty starter Mike PROCHASKA! had many, many problems. MP pitched 4 1/3 innings and gave up nine hits, three runs. M-Pro walked three and struck out four. His ERA currently stands at 8.51
Colter Bean pitched three scoreless innings in relief, giving up two hits and a walk. Bean struck out Velazquez, Sean Casey, and Sandy Madera. It was his first game for Durham. You may remember CB as a guy in the Yankees system who was briefly on the Boston Red Sox roster (but never actually played). Up until recently... VERY recently it seems... he'd been playing in Mexico. He throws hard and is almost as big as the world's largest nun.
Uninteresting reliever Dale Thayer also pitched.
There were singles a go-go in this game. Ten runners were left on base. Sandy Madera and Sean Danielson each doubled. If you care about the rehabbing megastars, here goes: Alex Cora played second base and went 1-4 with a single. He also struck out and grounded into a DP. Sean Casey DH'd and went 2-4 with one K. Both guys went seven innings deep.
Gil Velazquez went 0-4 with one strikeout.
For the Durham Bulls: Josh Lanbandeira homered (like I told ya) and Dan Johnson batted in Elliot Johnson, who'd doubled. Elliot Johnson also nearly got himself tossed for non-subtle strike zone disagreements.
happiness is just an illusion:
1. The person Mike Prochaska would most like to meet is
Jackie Bushman
. Who? I don't know, it has something to do with putting bloody bullet holes into majestic, proud deer with soft, chocolate eyes. I personally don't think it's very nice to kill animals for fun, but then, I once subscribed to Premiere magazine.
2. Justin Ruggiano (al forno) was not in the lineup today, but it did not prevent him from being an asshole. He got a good heckling while he was acting as first base coach.
3. This game was heavily attended by schoolkids and the Bro-letariat. I think everyone wanted to see major leaguers. I was just there for Jon Switzer.
4. Alex Cora might know everyone involved with organized baseball. Third baseman for the Devil Rays AAA team? Hey, how you been? Home plate umpire! Whaddup!
I had planned to attend tomorrow night's game, but it appears to be a rainout. So... see you another day.