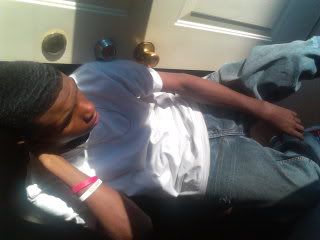 Game One: Pawtucket WINS! 7-2. Okay, this may have been Game 2 for all I know. I don't care and neither do you and probably neither does Kyle Weiland, who has bigger fish to fry these days.
Weiland was the starting pitcher and went 5 out of seven innings. Guess who pitched the last two? Dan Wheeler! Dan Wheeler was unpacked from a heavily-stickered steamer trunk, wearing a seersucker suit and a bowler.
But Weiland... Kyle only gave up one run on three hits. And it was in the first inning. Weiland walked a guy in the fifth, but was otherwise cool with a groundout and a couple of strikeouts. His pitch count was way up to, like, 74, so it makes perfect sense that his night was over.
Starting
pisser for the Clippers was
Jeanmar
Gomez
, Venezuelan righty.
Gomez
was just blazing through dudes like Reddick and Exposito, but everything got bollixed up for him in the fifth. Matt Sheely, one of the greats, landed on first after he bunted with panache. Sheely advanced to third on an error. God, I miss that kid.
And so then with two outs in the bottom of the fifth, Gomez walked Tony Thomas. Oh, yeah, I also really liked Tony Thomas. Josh Reddick, gone and sort of forgotten (he is not 100 percent smooth in the Fenway outfield, I can see that now), hit a line drive single to right, scoring Matt Sheely. Tie game!
First baseman Lars Anderson batted after Reddick. They secretly hate each other, have you heard? Did you read that thing about the ghetto children? Anderson hit a home run, which was his... Oh my god, first home run of the season for the first baseman who really cannot play any other position!!!!! 4-1 Pawtucket!
Sixth inning, new pitchers, Carlton Smith for the Columbus Clippers. Brent Dlugach and Luis Exposito hit back-to-back singles to lead it off. Matt Sheely, tiny package of wonder, bunted yet again. I wish Matt
Sheely
was my son. And then Smith IBB'd Nava, which he really must have hated. Smith must have, that is.
And also maybe Nava, who likes to take hacks.
Tony Thomas hit a sac fly to score Dlugach, but Carlton Smith got Josh Reddick to fly out and end the inning.
Top of the seventh, game almost over, new pitcher Eric Berger for the Clippers. Anderson led off with a single to center... and Drew Sutton hit a home run! Get out! That Sutton, doing good things like a champ. 7-1 Red Sox.
One last thing: Dan Wheeler gave up a solo home run to right fielder Jerad Head. Final score 7-2.
TRY NOT TO THINK TOO MUCH:
1. Cord Phelps also hit a home run. It may have been majestic, but the world will never know.
2. Lonnie Chisenhall made two errors, but who's laughing now? Well, aside from audiences at screenings of '
I Don't Know How She Does It
', probably Chisenhall himself. Because he's a Name Player now. Like Dooley Womack!
Not a whole lot of Matt Sheely stuff popping up in search engines. Sweeping disinterest, really. Maybe I'll buy a jersey.
I'll be back another time.