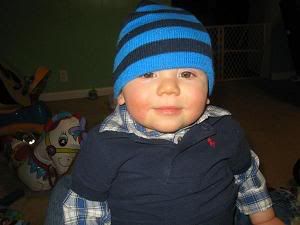 Cla
Meredith
is a right-handed
relief pitcher
who
appeared
in 40
games
with the
Pawtucket
Red Sox
in 2005
and
then eight more in 2006.
He
was
22-23
years
old.
In 2005,
Meredith
split closing duties with Tim Bausher.
He
closed 25 out of 40 games
he
appeared in and
finished
the season with a 2-5 record and a 5.59 ERA.
Through 13.2 innings pitched in 2006,
Meredith
walked five and K'd 14.
He
gave up 8 earned runs and
posted
a 5.27 ERA.
Bring Up Cla Meredith!
Two things:
1. "IMO from the one inning I saw with my naked untrained eye, he looked like a put together BK with control. A slightly harder throwing version of Chad Bradford, with maybe a smidge more bite. He really impressed the heck out of me keeping the ball down like he did. Not much you can do with his pitches if you make contact which might explain the 11-3 G/F ratio so far this year. Seems like he can really pound the bottom part of the strikezone." - "Nomar"
said it here
in April of 2005.
2. "Porpoise Delectable"
assesses Meredith's fatal appearance v Seattle
thusly:
"At the risk of sounding like a Cla pigeon (so to speak) I really didn't think the pitch to Sexson was all that bad. He tried to go low and away and caught too much of the plate. Sexson, with his long arms, had no trouble poking it over the Pesky Pole. Now I'll grant you the 2 walks prior to Sexson's bomb certainly didn't help. Curious that Tito brought him in to that situation. For a sinkerballer, he was definitely over-throwing (a fact Tito pointed out later). I was watching the Mariner TV b'cast and in close up's of him on the mound, you could see he was really breathing heavily. A major league debut will do that to you. He's likely headed back to Pawtucket before too long, but does anyone really doubt he'll ultimately be more valuable then Blaine Neal?"
(May 2005)
One Thing Extra:
1. "What stands out about Cla was how he warmed up once he took the field. He would start his routine by throwing to the catcher from in front of the mound. He would start getting further and further from the catcher and closer and closer to the mound. Obviously from very close up the ball would pop into the mitt very loudly. Not sure why he did this or when he started doing this, but it definitely got the attention of the other team and for some reason seemed to intimidate them. He was DOMINANT!" (
Some VCU alumnus
)
That's a lot of links, but there's some really great stuff behind them.
You can smell the Old Virginia emanating from Cla Meredith's mural in the middle portion of the third base tower!
(pictured: Baby Cla Meredith)