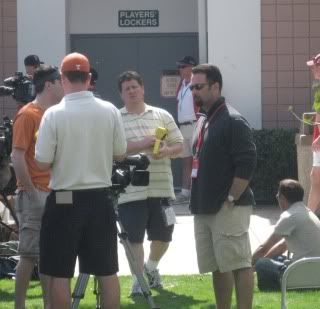 Wow, okay,
Lou
Merloni. This could take all day. You could just read
this
balanced, comprehensive web page, though. They say Framingham is the San Antonio of Massachusetts.
Lou
Merloni is a utility infielder who played for the Pawtucket Red Sox for like ten years. No, okay, it was 1996-2002.
In 1996,
Merloni
split time between double and triple-A. He played in 38 Pawtucket games, batting .252 with a .328 OBP. His time at second, third, and short was divvied up fairly evenly. And everybody was doing the Macarena.
1997 - Merloni was
back
in Pawtucket, hitting five home runs through 49 games. This may also have been the year he decided to cultivate a
goatee
. He
was
walked intentionally two times. It would be the last Pawtucket season that this would happen.
1998 - Merloni's Boston debut! When he wasn't with the big club, he was playing in 27 games for Pawtucket. Since between the two teams he only played 66 games, he must have been injured or something. Merloni had a hot bat during his brief Pawtucket stay, batting .386 with eight home runs! 1.234 OPS! He walked more than he struck out! LOOOOOUUU!!!
Space! 1999!
Lou
Merloni, spending a little more time in the Ocean State. 66 games, 64 hits, mostly playing shortstop. He hit 14 doubles and drove in 36 runs.
In 2000,
Merloni
decided to try his luck
in Japan
. He did not get much playing time, though, so
he returned
to America halfway through the season. Merloni got his old job back, mostly because he was a F.O.N. He spent most of that time with Boston, but turned up with the PawSox for eleven games, still mostly as a shortstop.
2001 -
"Entering the 2001 season, Lou was still in Pawtucket. On his birthday, he was called up to the majors, but he didn't last too long. Whiney, terrible short stop Craig Grebeck (who i have a permanent grudge against because he is the ONLY person keeping Lou in Pawtucket!!!!!!!!!!!) is the reason for Lou's demotion."
(
Aleta's Lou Merloni biography
)
52 Boston games, 52 Pawtucket games. Lou was getting pissed about being sent down.
Merloni
struck out a lot.
And finally, in 2002, Merloni squeezed in 11 Pawtucket games. It was terrible,
he
batted .200 and was probably in a very bad mood.
Two things:
1. I'm sure
you
all
know about the "
Merloni
Shuttle
", which
is
the
route
you take from Boston to Pawtucket. Here's what you do: Get off 95 south at exit 29. TRUST ME. Go through the stop sign... No, just go through it, no one's ever coming anyway and it's a One Way. Then bear right onto Broadway. STAY IN THE CENTER LANE. After the light, bear left. The road immediately splits, so stay right.
Take a left at the stop sign onto Walcott. Go up a couple of blocks BUT DO NOT DRIVE ALL THE WAY DOWN TO THE RED LIGHT! That's where the traffic holds you up so don't do it. Take a right onto one of the side streets, Denver or French or something. Park in that area, it's free. Or, if you're Merloni, zig-zag over to McCoy and park near the home plate tower. When you see all the expensive cars with tints, that's where you deposit your whip.
2. "Sunday's fifth inning added extra flavor as both benches cleared when Pawtucket's Lou Merloni charged the mound. Merloni was hit by a pitch in the third inning and again in the fifth by Bulls starter Mickey Callaway. In the bottom of the fifth, Pawtucket's starter Jin Ho Cho and manager Gary Jones were ejected from the game after Durham's McClain was hit by a pitch. The game accumulated a total of six hit batters and one wild pitch." - (
May 1999
) Wow, our little Lou charged the mound? How out of character!
***BONUS THING***
3. "Youkilis has, he accepts, been more of a curiosity, and a likable curiosity, than anything else, and he's been that for what he views as three reasons. ''I get paid the least," he said. ''I have that going for me. If I do well it's, 'Good.' If I don't, well, it's, 'We're not paying him anything.' They can chant my name easily. And they miss Lou Merloni. I swear, it's because they miss Lou. They can't chant 'Louuuuu,' so they chant 'Youuuuk.' " Yes, there was a time when Kevin Youkilis was some fat minor leaguer who was not as interesting as Lou Merloni! (
source
)
I can't remember where Merloni's picture is. Yes, I have the location of all the other ones committed to memory. I'm a pretty big hit at parties.
Middle of the third base tower. Okay? Pass the blunt/cheese puffs. GOD.