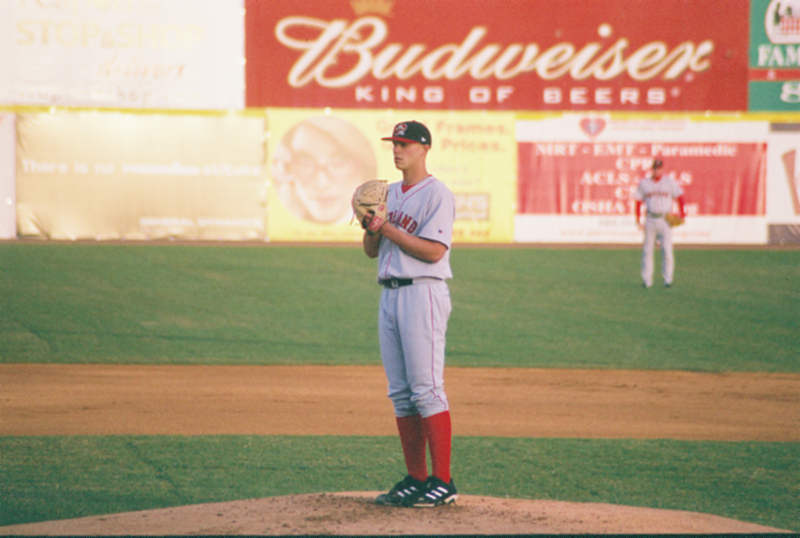 I need to put Baseball Reference on speed dial. Where would I be without it? I wish I could put it atop my XMAS tree in lieu of an angel or a star or some hideous raffia abomination.
Justin Abomination Masterson is a tall,
hairless
righty who pitched in four games for the Pawtucket Red Sox in Junish 2008. That was a
great year
! Masterson
started
one game, was used in relief for the other three. Yes, that is all. It was part of his
starter to reliever
conversion, which I guess only takes one month at the triple-A level. Nowadays you can just pick up a SP/RP adapter for three bucks at the
hardware store
.
Through 9 1/3 innings,
Masterson
logged eight K's. Not bad!
He
hit one batter. Probably Kevin Barker.
He
gave up one walk and one home run. I guess they cancel each other out, because a walk is as good as a home run.
RIGHT?
Two things:
1. To put things in perspective, here are some cats who pitched in more games than JM in 2008: Mike Timlin. Beau Vaughan. Bartolo Colon. Dan Kolb. Miguel Asencio. Bryan Corey. Lee Gronkiewicz. And the pitcher who publicly dissed his PawSox teammates, Clay Buchholz.
DEAD TO ME.
2. Oh, hey, it was in fact former PawSox great Jason Lane who Masterson hhttp://www.blogger.com/img/blank.gifit with a pitch on may 29th, 2008 v the SWB Yankees. I FUCKING LOOKED IT UP!!! Also, Jason Lane is still playing: In 2011, he was working for the BJ's triple-A team in Las Vegas and maybe
turning himself into a pitcher
. There you have it.
Added bonus: In case it wasn't 100 percent clear that David Laurila completely dominates with player profiles and interviews, please
read this thing
with Masterson. Laurila gets up and nothing gets him down.
Justin Masterson's mural is smack in the middle of the third base tower. No word yet on the future placement of his bandmate Javier Lopez.