3-2 Red Sox OH HELL YES.
Devern Hansack had a wicked strong start but didn't get the win since Hunter Jones allowed the tying run... but we'll get to that. Hansack gave up an RBI double to Luis A. Jiminez in the first inning after he'd walked Roger Bernadina and that was it. Hansack pitched the next six innings with scoreless aplomb, striking out 11 batters! A season high strikeout total for Pawtucket!
On the radiocast, Hoard and Hyder were talking about Hunter Jones struggles with getting lefties out (split: .386 lefties/.289 righties). And in the eighth, his first slew of batters were all left-handed. And so it went, a double for Bernadina followed by a bunt single for left fielder Leonard Davis. Lastings Milledge grounded out and Bernadina dashed home, tying it all up.
Jones went on to pitch a scoreless ninth. Pawtucket managed to score a run at the top of the tenth. Chris Smith came in to face Columbus in the tenth and it didn't look good at first. Smith immediately gave up two singles in a row. Lastings Milledge then flied out to advance the runner on second (Bernadina again) to third.
Everyone was all tense but Smith got the next batter, Jimenez, to ground into a double play. Whew!
Clippers! Columbus sent former Yankee skinny boy Tyler Clippard out to mow down the PawSox. Clippard matched Hansack's seven innings, giving up a pair of runs to Pawtucket in the first inning. He also had a quartet of strikeouts.
Lefty Mike Hinckley got the first couple of outs in the eighth inning before being replaced by Levale Speigner to face the righty, Keith Ginter. Ginter obligingly grounded out and Speigner returned to pitch the ninth inning, holding Pawtucket scoreless.
Chris Schroder took the mound for the tenth inning. After a Joe Thurston double led the inning off, Schroder got Van Every to fly out and Carter to line out. George Kottaras then singled in Joe Thurston. How heroic of the boy. No, really, good job Kottaras!
And so the Pawtucket offense boiled down to a couple of doubles by Super Joe and George Kottaras (Favorite Musical Artist: Snoop Dogg) bringing Thurston home TWICE. Do they get gifts for that?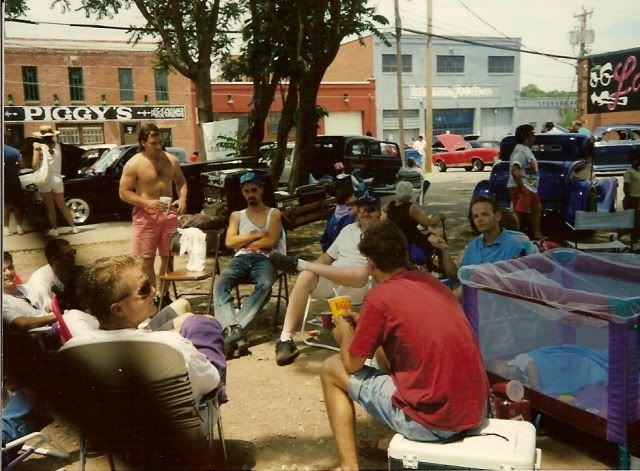 PAWTUCKET!
1. Could this be the last visit forever to Columbus' Cooper Stadium for the Red Sox? Well, new park next year and a likely affiliation with the Cleveland Indians. But will the fans still bring their cowbells?
2. Congratulations to Clippers third baseman Yurendell DeCaster for being elected to the Olympic baseball team!
3. Hansack had a tough start to the season and many people thought he wouldn't get back on the horse. "Many people" being me. It's great to see his return to form and here's hoping he pitches like this in the postseason.
4. Yeah, I said it! BRICKTOWN!!!!
5. Van Every batting third? What's next, a talking banana?
6. Chad Spann's playing time has been greatly reduced. I'm not sure what's going on. Wouldn't mind seeing him Pinckney'd.
7. Here's a
video
of Spann skeet shooting with Brandon Moss and Jed Lowrie in Mapleville. Good ol' Mapleville, RI! I think that's a made-up town.
Tomorrow's the last game of the series and it starts at noon. Charlie Zink will face Marco Estrada. I can't wait!