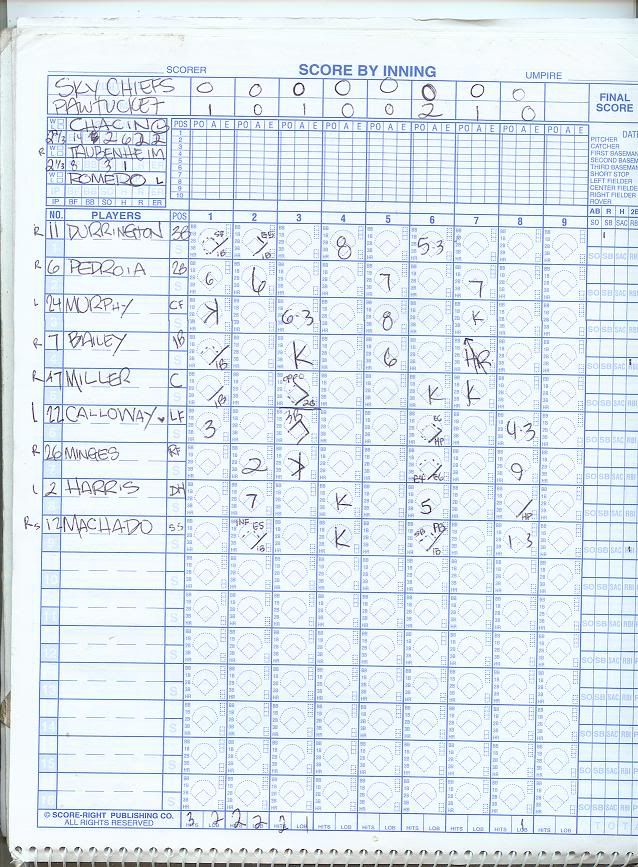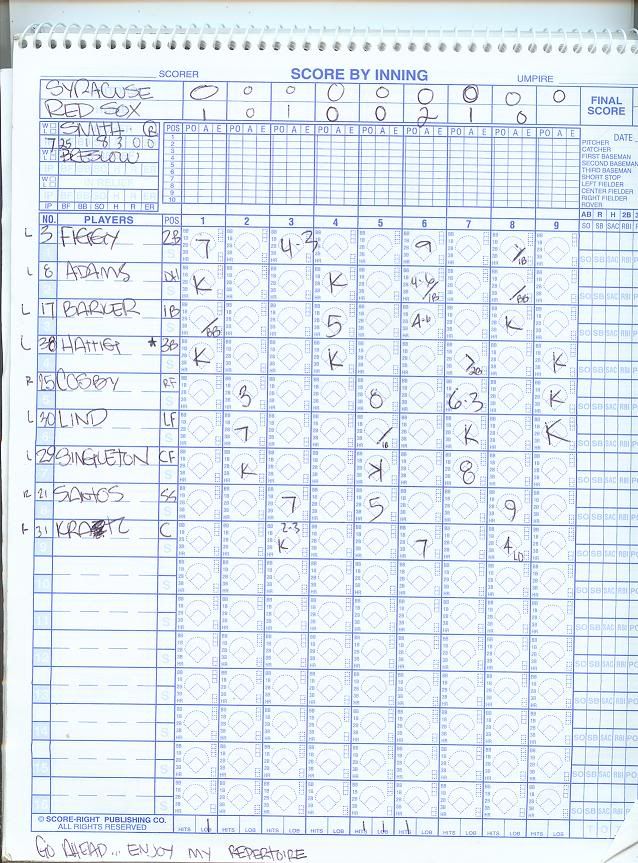 Pawtucket WINS! 5-0
What a great birthday present! For me on my special day! Please, let's also have the Yankees lose.
Last night I saw Chris Smith from Portland meandering around... he's hard to miss, what with his crazy moss. So guess what? He started today and was FIERCE! Seven shutout innings, only 3 hits. No-hitter going through the 4th, and the base hit was questionable (many thought it was an error) (but, sorry, I think it was a legitimate hit by Russ Adams). If you happen to own an '06 PawSox program, please do yourself a favor and look up Chris Smith. His photos will not disappoint.
Craig Breslow provided two very good innings of relief.
Gustavo Chacin who I love started for Syracuse. He is rehabbing and looked okay. Pitching-wise. Looks-wise... well, you know what he looks like. Maybe the less said the better, although I think he's oddly handsome. He gave up 2 runs in 2 2/3 innings. He was replaced by Ty Taubenheim firstly, Davis Romero nextly.
Ron Calloway, who is in love with me and who I will probably end up marrying, hit a TRIPLE in the third inning, driving in Corky Miller. You know what? The bats are heating up. No, really. Pawtucket is offensively doing a lot better these days. Love O' My Life Jeff Bailey, who does not have wack rims, homered in the seventh because that's the kind of guy he is. In fact, everyone had a pretty nice day aside from Pedroia, who did not get a hit. Hang on... DP DID have a good day. He made some nice plays at second base. I enjoy his fielding immensely.
I think the Sky Chiefs are probably my favorite visiting team. I like that they move guys up and down a LOT, so I get to see big time guys in my hood. Plus their jackets are so cool.
Two things:
1. John Hattig is from Guam and still lives there. Fascinating guy, don't you think?
2. Trent Durrington batting leadoff? YES! One more thing: Henceforth and heretoafter, you will refer to TD as "The Thunder from Down Under".
3. I knew Huckaby was going to get the callup, even though I was kind of rooting for Miller. I s'pose it's moot now that THE RED SOX HAVE ACQUIRED JAVI LOPEZ!!!
That's TWO Javier Lopezes. What a time we live in!
I'll be at the local speakeasy tonight, watching the game and having a few milkshakes. If you want to come wish me a happy birthday, that's where I'll be. Because in case you didn't know, it's my special day!
xoxo