Pawtucket WINS! 6-5 and then they blew up some fireworks. Skyrockets. Burn blossoms. Whatever regional term you'd like to use. Win goes to reliever Pedro Beato, who is like so cute and I never realized it.
Starter for the Red Sox was Allen Webster, which is not a very good name for a baseball player. He should have been a research scientist or maybe done some historical re-enactments in Ticonderoga. Webster pitched four innings and gave up four runs and jetted back to the lab.
Joe Martinez got the start for the Columbus Clippers and man he threw a lot of pitches (104)! Martinez worked his way into the seventh inning, got a couple of outs, then hit the road. He struck out seven Red Sox batters, gave up two runs, and then his relief corps failed him. After all that hard work. Nobody said there was justice in sport. Except when Boston defeated the Yankees in the 2004 ALCS.
The Clippers scored three runs in the first inning. Maybe Webster was shaky, he walked a couple of guys right away and then Cord Phelps doubled and Mike McDade hit a two-run single. Hey, I remember those guys! In the bottom of the third, though, Justin Henry hit a two-run double. And while I thought it was curious that Henry was playing the outfield these past couple of days, I just now realized that Mitch Maier hasn't been around. Turns out he's on the DL, and while I didn't find a specific cause,
I did discover that Maier is Mormon.
Oh, God, Book Two.
Columbus pulled ahead 5-2 when they scored runs in the fourth and fifth inning. In the eighth inning, Mark Hamilton hit a fly ball double to left, scoring the mysterious Drew Sutton. But the ninth inning was when the
PawSox
gave the crowd a thrill!
Pawtucket was still down 5-3. Righty Matthew August Langwell was pitching for the Clippers. He walked country boy Brock Holt to get things started. Langwell got Butler to fly out, but then walked Jackie Bradley Jr. Drew Sutton entered, singled, scored Holt. Justin Henry entered, singled, scored Bradley. TIE GAME MOTHERFUCKERS! Langwell then walked the bases loaded, had to face Bryce Brentz and all his real ultimate power. Surprise! Brentz flew out.
New pitcher, Jerry Gil. Gil walked Brandon Snyder with the bases loaded, Pawtucket wins, everybody falls in love all over again.
it was a stegosaurus and its name was henry:
1. Craig Breslow came and is rehabbing and he pitched and IS IT 2006/2007? Travis Hughes, Edgar Martinez, and Bryan Corey could not be reached for comment. How long have I been doing this?
2. I had
this to say
about Breslow: "The first time I saw Craig Breslow was not in San Diego, but in Pawtucket. I thought he was odd-looking - all knobby and flushed and wearing an ill-fitting uniform. Nothing special. I had no idea I'd be seeing so much of him."
3. And here's an embarrassing picture. Nice hat, Jen. Also shown: Michael Scott on his day off.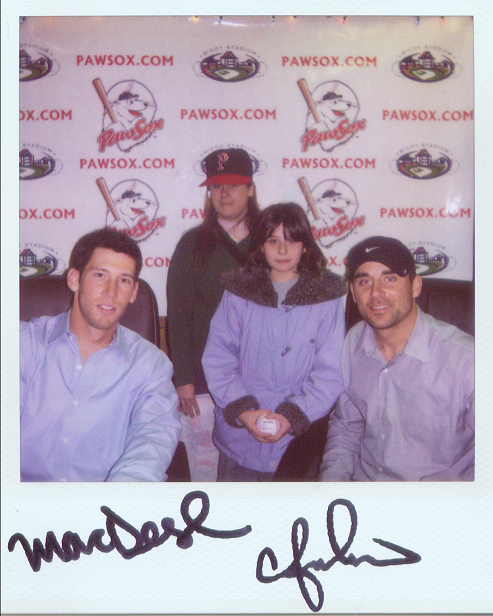 4. Justin Henry had three RBI. Bradley struck out three times.
5. Jeremy Hermida
used to be
on the PawSox. He struck out a lot. I remember nothing about those 19 games in 2010. We got him in exchange for Hunter Jones and some other guy.
This afternoon! Or... Right now! Terry Doyle and former PawSox great Daisuke Matsuzaka. I'll be at the game tomorrow, which is Monday. See you then?