Syracuse WINS! 3-1. Pawtucket's a game behind Lehigh Valley in the division and in first place for the wild card.
Starter for Pawtucket was Greg Smith, a lefty. Smith's a new guy, formerly a Scrankee. I know you're probably wondering, is he taken? I'm sure he's married. Okay?
Smith pitched six innings and only gave up one run, which was nice. Jeff Frazier hit an RBI single with the bases loaded, is what happened. But when Smith faced second baseman Steve Lombardozzi, who everyone loves to bits, Lombardozzi grounded into a double play.
Junichi Tazawa, still working his way back to you, babe. Tazawa came in for the seventh and no one cared, no one put a stop to it. The game was tied at one and in Real Baseball, it would have been Williams and Bowden. But this is triple-A, the least real dirty of all the minors. Grit and hunger are hard to come by around these parts. And so we get Tazawa the Tommy-Johnbot, giving up a two-run homer to third baseman
Seth
Bynum. Waaah, I said, much like Lucy Ricardo did.
We should talk about Chiefs starter Snap-E-Tom
Milone
, don't you think?
Milone
was great, struck out eight Red Sox through seven innings. His sole boo-boo was Giving up a home run to first baseman Lars Anderson. Scintillating scoreless relief was bro-vided by noted bros Zechry Zinicola and Josh Wilkie. KEGGER IN SYRACUSE!
Do you think it's weird that Jose Iglesias batted second last night? I do. Furthermore, I was sick yesterday and said delirious things about Will Middlebrooks and Lars Anderson, which were both inaccurate and inappropriate. If only there were some way to erase, or 'delete' the comments!
My admiration of Hector Luna remains steadfast, however. Even though he went 0-3. Tom Milone's good as gold, but twice as hard.
Tommy Hottovy also pitched for the Red Sox, a scoreless eighth.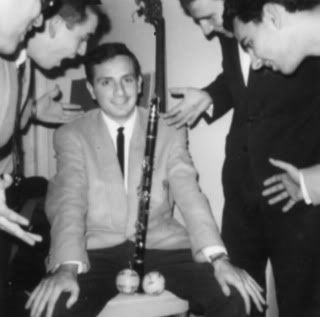 migajas:
1. "Milone is nothing like any pitcher in the majors right now. The closest comparison in recent memory would be Jamie Moyer, which would tell you something about why a lot of scouts are skeptical of Milone's ability to succeed in the majors. Moyer has long been considered an anomaly because of his ability to get excellent results out of such mediocre stuff. Despite that, Milone has a 3.47 ERA in 129.2 innings for Syracuse, striking out 131 and walking only 13." -
James Dunne
discusses baseball on an infrequent basis. Terrific blog, though.
2. Matt Antonelli was an All-Star this year.
From his website (?):
"I believe we have the home run derby tonight, but for some reason me and my three home runs weren't invited. Too bad it wasn't a "seeing-eye single" derby. I'd dominate that shit."
3.
Story by Syracuse's Lindsay Kramer
, photos by Mike Greenlar.
4. So now we have this
Patrick McHugh
guy covering Pawtucket? For big Boston sports http://www.blogger.com/img/blank.gifmedia corporate conformist inc.? Did you know that he is a
MURDERER?!
5. Brian MacPherson
explores the possibility
that Luis Exposito is not a crumb-bum.
6. PawSox Blog presents a more
clear, concise game summary
in measured tones.
7.
Game video!
A couple of Chiefs pitchers talk about Steven Strasburg's impending visit to Syracuse. Please note the misspelling of Tom Milone.
8. Would you like to
get to know game star Seth Bynum
? Not the way you're thinking... I mean, do you want to have carnal knowledge of Seth Bynum? Evidently he plays the piano.
HOTTT.
9. Jose Iglesias went 2-4.
Tonight! Kyle Weiland @ Brad Meyers. In Syracuse, in the ballpark which is the same ballpark as Norfolk and Lehigh Valley and Indianapolis. DON'T THINK I DIDN'T NOTICE.
I am feeling much better, thanks for asking.