Great game! Red Sox win 6-4!
Devern Hansack pitched six innings and gave up all four runs. Nine Ks, one walk. Craig Breslow, or "Creslow" as your mom calls him, pitched the next two innings and did a very nice job indeed. I just knew that big, crazy Travis Hughes would pitch the ninth and he did, veins a-poppin'. Not happy with the walk he gave up, or mainly not happy with the umpiring. Travis. HUGHES. Closed the game and we all win, yay.
Righty Richie Gardner started for the Bats (winged, not wooden). Gardner lasted only four innings because Pawtucket was banging him around. Six runs on eight hits and such. He was followed by back-to-back lefties Jason Kershner (two innings) and the rehabbing Bill Bray (1 1/3 innings). Gary Majewski pitched the bottom of the eighth and got the last two outs. The relief corps held Pawtucket scoreless, but it was too late.
Offense! Inning number one, Scales singles, Tucker singles, Moss singles and bats in Scales, then the lovable Jeff Bailey homered and drove in Tucker and Moss. And his own self. David Murphy also homered in the third inning. I am no longer doing Ellsbury-specific reports.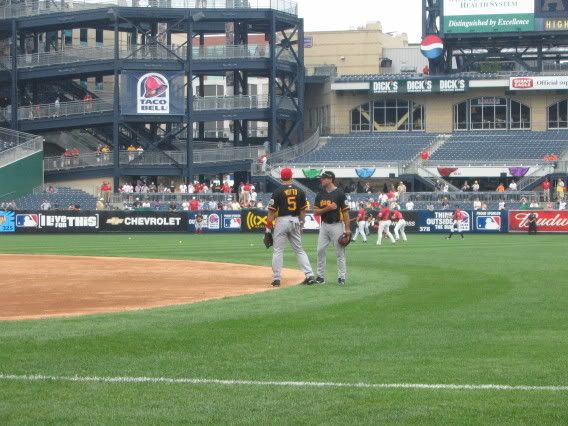 For Louisville, LF Chris Dickerson and 1B Joey Votto both homered. Former Yankee great Mark Bellhorn struck out twice and popped up to third twice.
HANSACK!!!
1. I certainly did enjoy my delicious veggie burger. Mmmmmm.
2. Bats second baseman Anderson Machado. Not Alejandro. Very strange hair on that one.
3. Bellhorn was very nice and signed a few autographs and got some strong applause. As he should.
4. Once again, the pitch speed meter is not working.
5. No Joe McEwing! WHAT?! At least there was Bobby Scales, who is the mayonnaise.
I'm going to Yankee Stadium tomorrow, so I had to turn down tickets to tomorrow's game in which Schilling is supposed to pitch. And I don't have tickets to this sold out game. DO YOU HEAR THAT EVERYONE? Stop asking!
Hasta.