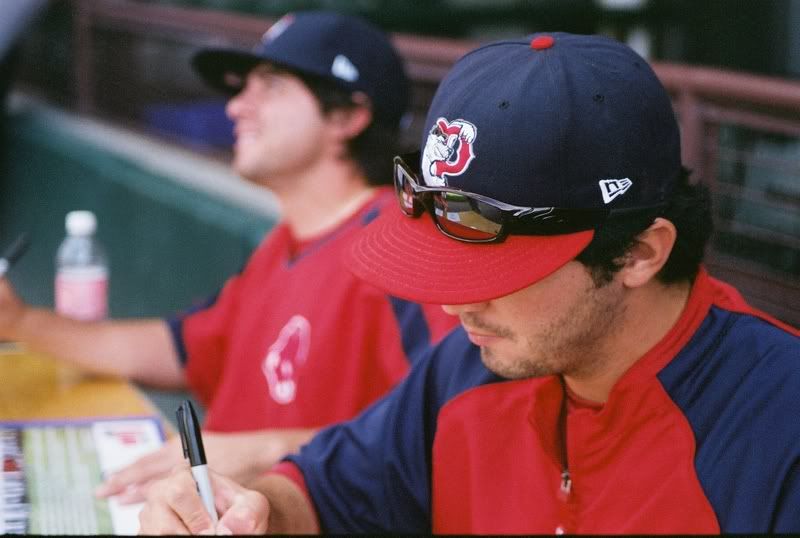 Buffalo WINS! 2-0
Starting pitcher for Buffalo: Scott Lewis. WHO? I have not heard of this kid before, but now I will never forget him.
The left-handed Lewis really socked it to Pawtucket. George Kottaras singled in the second and Carter singled in the fifth, but that was that. Both kids were erased by double plays.
Scott Lewis faced the minimum 18 batters in six innings. He had no walks and six strikeouts. He threw 72 pitches... 53 for strikes. Pawtucket looked like shit against him.
Charlie Zink was the opposition. Zink had a great start and under different circumstances would have gotten the win. He pitched eight innings, giving up a solo home run to right fielder Todd Linden. The second run of the night occurred when an error out in foul territory (convergence of infielders) allowed Andy Cannizaro to dash home from third.
Zink had three walks and three strikeouts. Kyle Snyder pitched a scoreless ninth inning, giving up a pair of singles because he's no closer.
park life:
1. Devern Hansack spent the evening in the bullpen. Not sure what's going on with that.
2. No Joe Thurston in the lineup. For that matter, I don't think he was even in the park.
3. I saw Travis Hafner exiting the building. He big-timed the fans. I mean that in the nicest way possible.
4. From my seat near third base, I got a good look at the fielding style of Gil Velazquez at short. It is somewhat impressive. I like how he goes balls-out for tough plays and doesn't half-ass it, even when he knows he's got little to no chance of getting the runner out. He is currently my Favourite.
5. Buffalo's Jason Cooper is a devoted Christian? I won't believe it! No way! Anyhoo, Cooper has been in Buffalo for FIVE YEARS. He's broken the modern era record for most games in a Buffalo uniform (over 400). He is also wicked hot.
6. Victor Martinez was also at McCoy. Allegedly. I did not see him.
7. Former Red Sox greats Tony Graffanino and John Halama were in the house as well. I can't believe it either.
No weekend games for me, but I'll be at the last game of the year on Labor Day. Then playoffs.
CANNIZARO!!!!!