Pawtucket! Loses! Again! 11-10 in ten innings. It is completely Lincoln Holdzkom's fault. Sorry, Mrs. Holdzkom, it's true. Your son is a terrible reliever.
Devern Hansack is back off the DL. He took it easy tonight, working two innings and giving up two runs (one was a solo HR by former relevant major leaguer Morgan Ensburg) on four hits. He then stripped off his sweaty uniform and took a hot, steamy shower with his eyes closed. The game was tied at two after he left, but Pawtucket scored three runs in the bottom of the second.
GV singled to kick off the second. And then Danielson singled. And then JV singled in Velazquez! And then Josh... wait... Wilson. The other Wilson, not Jack. Yeah, Josh. Anyway, Wilson doubled in Spike Danielson and JV. It was crazy!
The very nice but very inconsistent Jose Vaquedano jumped into the third inning and allowed a two-run homer by Jordan "I'm Jordan Brown" Brown. So that was good. Metro lefty Jon Switzer pitched the fourth and fifth inning and gave up the tying fifth run in the fourth, when Jorge Velandia hit an RBI single.
However! Pawtucket pulled ahead 7-5 in the fifth inning when Dusty Brown sacrificed Jason Lane home and BFF Gil Danielson and Sean Velazquez hit back-to-back singles AGAIN.
Top of the sixth. Red Sox ahead 7-5. Stinkin' Lincoln Holdzkom steps in. He immediately gives up a double to pain-in-the-ass outfielder Trevor Crowe. Holdzkom got the next guy, Velandia... but it advanced Crowe to third and friggin' Jordan Brown singled him home. D'oh! Mike Aubrey pinch hit for Travis Hafner and knocked another single to left.
So... Holdzkom walks Todd Linden... gets a coaching visit. Catcher Chris Gimenez is next and HE singles! Jordan Brown scores! Tie game!
Morgan Ensberg then comes up and hits a two-run single. Holdzkom eventually got the last two outs, but jesus. Why'd he have to come back?
Pawtucket fought back and whatnot but Chris Smith blew the tie in the tenth inning. Pawtucket went down uno-dos-tres in the bottom of the tenth up against Buffalo freak Bubbie "Edward" Buzachero. Good night and please drive carefully.
That is one nutty hospital. I could write a thousand words or more on this game. But I didn't go, so shame on me.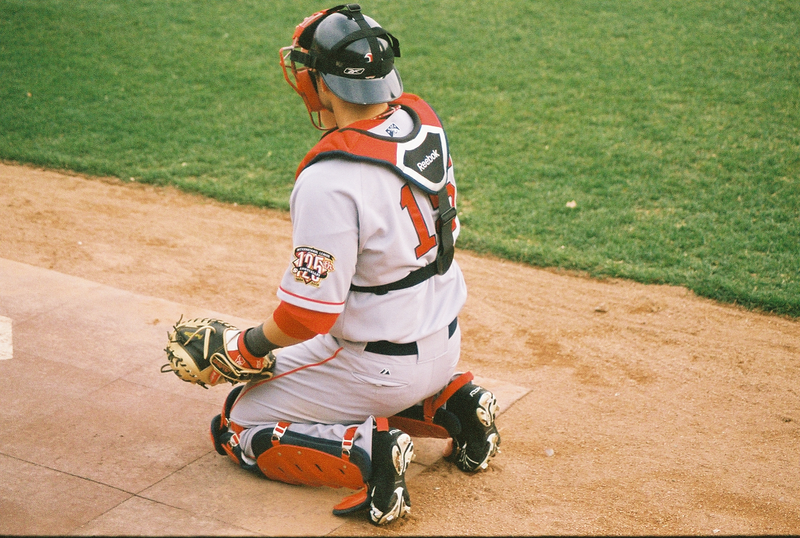 nunco he sido lanzadores asi como los que tiene Pawtucket!
1. New kid Marcus McBeth pitched three strong, giving up a solo home run to Cannizaro in the seventh. He had four strikeouts. I like McBeth a lot. He's also a musician, did you know that? And not some redneck asshole with a guitar and a crush on Toby Keith.
2. Oh yeah, so last homestand I saw Holdzkom at the park... I told someone to go ask him what he was doing there. I guess he cleared waivers and was back in Pawtucket? Except he also said he was 'sort of on vacation'. I should have asked him myself, I guess.
3. Joe Thurston's back! He was caught stealing and picked off. He also went 2-5.
4. Dusty Brown did a terrific job, going 3-4 with a double and three RBI.
5. Danielson again with an outfield assist. What have I told you people?
6. Little known fact: Sean Danielson is Mexican. Probably more than Velazquez is. But not as much as I am.
Tomorrow: Guapo Time! Love love love...