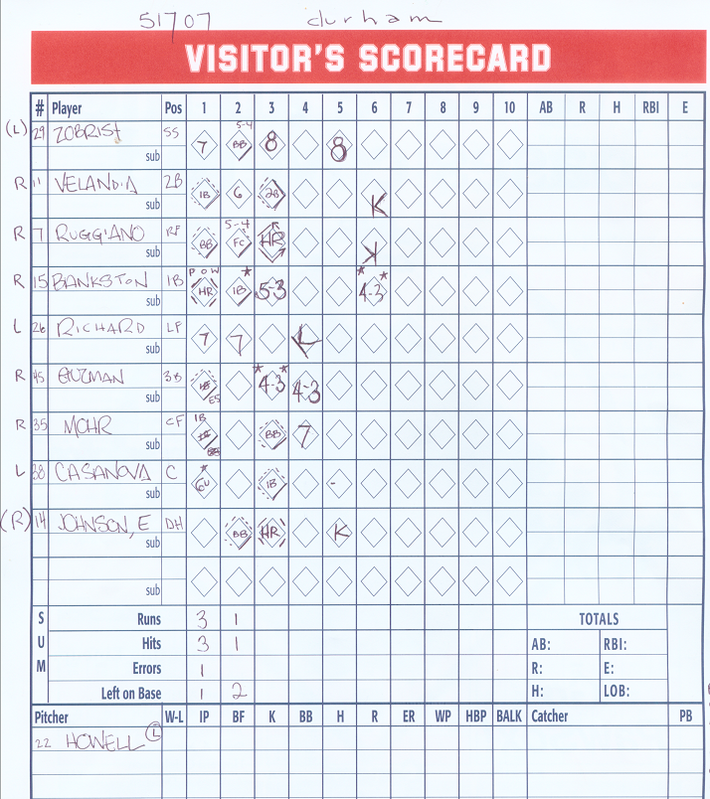 Durham WINS! 11-3
I attended this game but I left after six innings due to a prior engagement. Thursday nights are not really good for me.
Charlie Zink started tonight and was a complete failure. Nine runs in three innings! What the hell? Why even call him up from Portland? I wonder sometimes. Okay, I wonder a lot of the time. Charlie Zink is not long for this org. After the third home run he gave up, I had to laugh. Ha ha ha. Edgar Martinez also gave up a pair of homers. Good work, everyone.
The Bulls starter was lefty JP Howell. Howell went six innings and gave up three runs. Ruddy Lugo and Seth McClung finished up for him. McClung! He is still hanging out.
Durham first baseman Wes Bankston put the hurt on the Red Sox with a HR and 4 RBI. That's five home runs by the Bulls in this game.
Jeff Bailey homered for Pawtucket and, whoa, it was a humdinger. Joe McEwing was defensively dazzling, not that it mattered. Zink really screwed up when Wes Bankston was caught in a rundown and he neglected to cover first. The small crowd at McCoy rightfully booed his ineptitude.
Two things:
1. Hey, it was cold out there!
2. Second baseman Jorge Velandia is from Venezuela, but currently resides in Roadhouse, IL. A town called Roadhouse. How does a Venezuelan baseball player wind up
there
?
3. Michael Tucker was added to the roster TODAY. I think that's really neat.
4. In spite of forecasted rain, they are going to make every effort to play tomorrow night at McCoy.
5. If you are a Yankee fan and you come to Pawtucket and root for the opposing team, you seriously, seriously need to get a life. You need to really examine your soul. What you are doing is wrong.
Hasty banana!