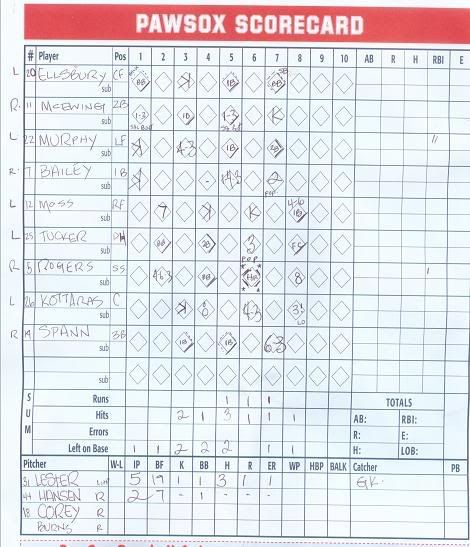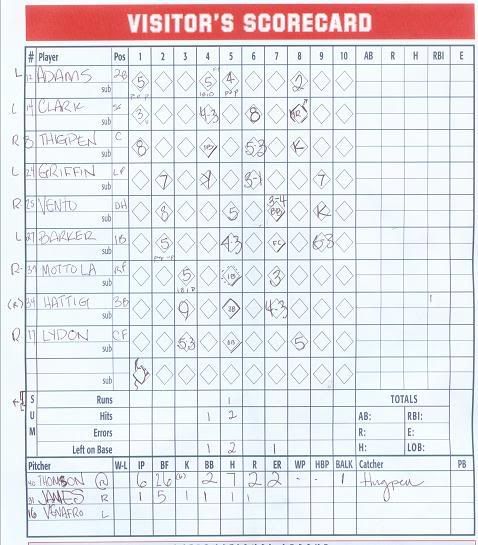 Pawtucket WINS! 3-2
Best game of the year thus far.
Jon Lester started for Pawtucket and pitched five innings and gave up one run in the fifth. The ever-reliable relief trio of Hansen/Corey/Burns fininshed the job. Brian Corey gave up the second run, a solo homer by Howie Clark. Clark's homer was rather impressive.
John Thomson started for Syracuse and coould have taken first prize in a Buddy Groom Lookalike Contest. Swear to god. I think he pitched decently, yes, thanks for asking. Thomson gave up two runs in six and reliever Justin James gave up the third run in the seventh when D Murphy doubled in Ellsbury. And then guess who pitched? Mike Venafro! Yes!
Offensively, Pawtucket got a sweet, fat home run from Ed Rogers. It went out and up and like, over the berm area. Joe McEwing cemented his swellness with a pair of sacrifice bunts (well placed and highly effective, I might add) and a single. His defense is commendable as well. I know the whole world is in love with Joe. Add ME to the list!
The Chiefs seem to be the same exact team as last year, minus the sassy satin baseball jackets. John-Ford Griffin, Russ Adams, Chad Mottola, Jim Crowell, etc. John Hattig, Guam native! Hattig actually hit a triple off Lester and that was pretty funny. Hattig is cool.
Lester was cool. He induced pop-up after pop-up and that crumbum Chad Spann fielded five of the six. He is also sporting a Hardship Goatee.
Two Things:
1. Colombian dancers entertained the crowd before the game. Also, Rhode Island's first all-Hispanic Boy Scout Troop held flags up during the NA. They are from Central Falls! Yay, us!
2. I expect David Murphy is not too happy about playing left field and second fiddle to superstar Jacoby Ellsbury. It's an 'All About Eve' situation that could get ugly. Give Murphy away! Let him play!
3. Syracuse Chief Wayne Lydon fouled into the stands and took out some kid and apparantly a couple of people near him. It was a hard foul ball that no one could have avoided. I think the kid is okay; an adult who was also escorted away by EMTs was holding onto his neck. The adult is clearly going to seek some kind of compensation... everyone knows the old "Ow-My-Neck-Kinda-Hurts" trick.
4. Hazel Mae was in the house, enjoying the game. Her sweetheart plays for Syracuse.
5. Curtis Thigpen! In non-magnet form!
See you later.