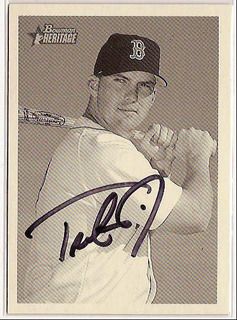 "Playing in Cleveland has been great so far. It's been a relatively easy transition. It's still the same game, obviously, and while I miss the guys in Boston, I'm extremely happy with the new opportunity I have with this club.
The clubhouse wasn't difficult to acclimate to, even though my Spring Training was a bit different following back surgery. It was a little difficult getting a good read on the rest of the team at first because I was rehabbing, but now that I've seen these guys in action, I'm confident we have one of those teams that can compete.
Everybody's goal is to win. Winning championships is what everybody strives for. That's true here.
We've started off well. There are some games we'd like to have had back and probably some games we had no business winning. But the name of the game is to win ballgames -- whether you do it with one hit or 20 hits. I don't care how it happens. A win is a win.
If we do the things we need to do on the field -- play good defense, get good pitching and get the timely hits -- we'll put ourselves in a place we want to be at the end of the year.
A lot of guys here haven't been to the postseason. I'd like to take that journey with them. We're very capable of doing that, but it starts with the first game of the season and every game from there on out. Every game is an opportunity to win.
People put a lot of focus on the strength of our division, but we need to remain focused on all of our games, not just the games against teams in our own division. We need to compete and find a way to win every day.
I had a lot of friendships -- on and off the field -- in Boston, but it's not like I'm gone altogether and won't see my friends anymore. I'm just thankful to have had the opportunity to have spent as many years as I did with the Red Sox organization. It was with the Red Sox that I was able to achieve the goal of winning a World Series championship.
In the offseason, I had the opportunity to sign with several different teams, but I just felt that God spoke to me and guided me to Cleveland. It's a new opportunity and a new challenge that I'm thankful to have before me."
Thanks, Trot! See you Tuesday!