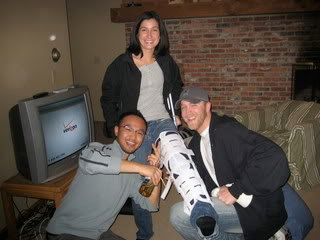 Jake Peavey WINS! At being the most ethical, Christian, golden American baseball player of all time. Even so, the Knights could not sell out this game or any other game for that matter. I think I know why. I think because every other kid plays baseball down in the Carolinas so everyone's busy with their own thing.
So what I meant to say is this: Carlos Torres WINS! 5-3. Look how low you made Kris Johnson hang his head. Johnson could not even get out of the fourth inning. He was nearly outpitched by a rehabbing NL'er with a bum ankle and below-average shoulder strength.
Johnson threw 85 or 86 pitches in 3 2/3 innings. He gave up four runs to Charlotte. Peavey at least got 5 strikeouts. But I don't care, I still love Kris Johnson and I know he is going to find himself and pitch like the future star he is!
HA! Fooled you! Kris Johnson is a bum! Another lefty bum: Hunter Jones, who nonetheless managed to get five outs without giving up a run.
Onto the bats: The Knights had a 5-0 lead and Pawtucket was looking weak as usual until the seventh inning. Fist baseman Jeff Bailey led things off with a walk. Chris Duncan singled and then Dusty Brown hit a two-run double! Angel Chavez followed that with a double of his own, scoring Brown from second.
And then Gil Velazquez grounded out to end the inning. Velazquez is batting .132 with runners in scoring position. Hey, at least... um... Gil's got... uhhh... the fielding's declined...hmm...not really handsome... Hmmm. GIL VELAZQUEZ IS ONE FUCKING WELL-DRESSED MAN!!
brilliant observations:
1. If the Charlotte Knights don't play in Charlotte, or even in North Carolina, why not stop the chicanery and just call them the 'Carolina Knights'? Surely someone has posited this theory before. Get some new management and a new promotions team and get to work!
2. Travis Denker batted leadoff and went 0-4 with three K's.
3. Marcus McBeth pitched a clean 1 1/3 at the tail end of the game. Don't you love him? He could be the best thing about the PawSox this year.
4. Keith Ginter went 3-4 against Pawtucket. I never liked that asshole. You can look it up.
5. Photos
here
. Very nice. I'm going to print them out, lick them, and cry.
6. It doesn't look like anyone's blogging the Charlotte Knights. Can someone help me out? I'm nothing without strip-mining other peoples' work.
Tonight! Pawtucket goes to Gwinnett Valley for hot Braves action. John Halama will face the Red Sox. I have nothing to add to that.