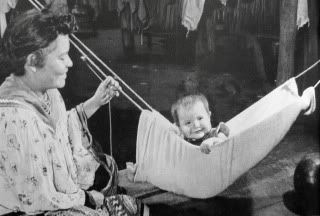 5-3
Tides
. I was just thinking yesterday, gee, I know so little about TJ Large. This is mostly because he is not interesting. Well, things have changed.
Let me start be saying that I think we have all overlooked one of Boston's biggest impact trades during the off-season. I am of course talking about the Pauley-Bierd swap that went down with Baltimore. We sure got one over on the Orioles!
And so last night, these two pitchers faced each other. At last they meet for the first time for the last time! The epicosity is staggering. The tension must have been unbearable.
Randor Bierd, a large man and a surprisingly good dancer, started for Pawtucket. Bierd is a reliever and he's been stuffed onto the inactive list for a good chunk of time. He's back, though, and I wish he was my friend in real life.
Bierd pitched five innings and only gave up one run on six hits. Commendable start! Bierd left the game with a 3-1 lead. There was hope... McBeth and Cherry in the bullpen, Fernando Cabrera to close. Then came the seventh inning. TJ Large mus have missed the banana peel on the mound because he slipped and hit Robby Hammock with a pitch. I'm surprised Hammock didn't start swinging!
Hammock took a while to get up and stagger over to first. He could not have been hurt that badly though because when Andrew Pinckney stepped up and doubled, Hammock made it all the way home. I'll bet it killed him. I'll bet it hurt like a mofo.
With Pinckney on second, Joey Gathright sacrificed him over to third. Justin Turner batted next and hit an RBI single. Justin Turner! Who the hell is he?
Base loading events transpired and Hunter Jones appeared next in the seventh. Jones inherits Justin Turner from Large... and Turner scores on a Brandon Snyder single. Thanks, Hunter! Tides lead, 4-3.
Pawtucket would not score another run in the game. Aaron Bates ended everything by grounding into a double play. It never gets any easier.
Get it? Hammock? Swinging?!
1. Marcus McBeth gave up the fifth Norfolk run in the ninth.
2. Remember that episode of the Brady Bunch where Marsha gave some mousy girl a makeover? And the girl turned into a snotty asshole? That's like Hunter Jones in contact lenses.
3. Joey Gathright is the best thing on the Norfolk Tides.
4. Jeff Bailey went 3-4 with a double. Word on the street is that he is only rehabbing in Pawtucket, although I overheard him say he wasn't exactly sure what was going on. To be fair, though, he also wasn't exactly sure what day it was or where his shoes were.
5.
Pauley
got the win for the Tides.
6. Here's a
very good article
by Peter Gobis for the Attleboro paper. Take heed, Providence and Pawtucket newspapers. Your cookie cutter box score bullshit is TIRED.
7. Chris Carter hit a home run.
8. Dusty Brown gunned down a pair of base stealers.
Kris Johnson v Radhames Liz tonight. They are giving away free jerseys of some kind. This brings a large crowd and they will go fast because not everybody gets one.
If you want one, you greedy bastard, show up early. You're welcome.