Pawtucket... wins? 3-2? What just happened because I was at the park and the game was tied and then suddenly everyone was getting their coats and heading for the exits and I was left standing there with an empty glass, blinking at the bright lights in which everyone was suddenly ugly?
Confession: I have not been much of a student of the game lately, as I've been going to the park with misc. folks and drinking beer until I run out of money. You know how it goes: Kick things off with premium beer and wrap it up with domestic light beer because you stop caring as much.
But what happened is this: Michael Bowden and his bully face and power physique pitched well enough to win. Bowden threw 93 pitches through six innings. Bowden gave up four walks. Bowden is 11th in the International League for walks. Right behind Enrique Gonzalez who is in tenth place. Yet Bowden's WHIP is top ten, in the good way! So Bowden walks a lot of guys but he pitches a lot of innings. He makes a lot of money, but he spends a lot of money, too.
Bowden gave up both Buffalo runs. Josh Peterson hit an RBI single in the second inning after catcher Robinson Cancel hit a double and then Cancel goes and triples in the sixth inning (what a beast!) and Andy Green has a productive groundout, scoring Cancel.
And here's a weird story: Hunter Jones came into the game and I was pissed. But Jones pitched three scoreless innings of relief. Remarkable. And although the score was tied going into the bottom of the ninth, and everything was dark and dire, Pawtucket.. well, Josh Reddick... did something right and drove in Angel Chavez from second. WALKOFF SINGLE!!! It happened so quickly! I felt bad for drunk people with slow reflexes, because they must have been wondering how the game ended so suddenly.
Buffalo starter
Tobi Stoner
had a pretty solid six-inning, one-run start. He can blame his reliever Eddie Kunz for blowing it in the ninth.
And O what a beautiful sunset I saw from section 3.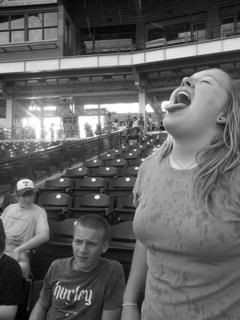 I got a taste of the real world (just a drop of it):
1. Angel Chavez was muy macho last night. Chavez went 3-4 with a double and was damn charming about it.
2. Chris Woodward went 0-4 with a K. Woodward has done, um, nothing since he's come to Pawtucket. I'm pretty sure he doesn't care about me or my feelings.
3. I saw Chris Carter in the dugout, so I guess he's not dead yet. I did not see Fernando Cabrera at all. And trust me, I looked for him. I also saw Bob Tewksbury. And your mama.
4. Jed Lowrie left the game after one at-bat.
5. Charlie Zink was in the bullpen and I'm pretty sure I saw him warming up at one point.
6. Dusty Brown hit an RBI single in the fourth to score the Red Sox' first run. Gil Velazquez sac flied Brown home in the seventh for run number two. And then Josh Reddick did his thing to win the game.
I'll be at the park tonight, either surrounded by invisible, protective angels or surrounded by people who bought tickets and probably like peanuts.