Pawtucket actually won, thanks to Jose Vaquedano, Dustin Richardson, Javier Lopez, TJ Large, Josh Reddick, and Jeff Bailey.
2-1
, we'll take it.
Wait... Dustin Richardson's been called up? A lefty? Can we throw Hunter Jones in the Trashco brand trash receptacle now?
Wait... they called up Michael Bowden? And Chris Duncan was released? Wow! I feel like Rip Van Winkle!
Wait... TJ WHO?!
Tim Wakefield started for the Red Sox, and even though I've seen him pitch eleventy times at Fenway, I sort of wanted to go see him tonight. Wake Field pitched into the sixth inning, got his pitch count up to 81, and left the premises. One run (solo home run by fatass Justin Huber), one walk, and four K's.
Vaquedano, Richardson, and Lopez each got a pair of outs and TJ Large polished the game off like a slice of chocolate cake. Yummy.
Pawtucket scored both its runs in the fifth inning. Reddick and Bailey each hit RBI singles. Bubba Bell could have kept it going, but he lined out because he sucks.
Reliever Juan Morillo took the loss for Rochester. Bye, Rochester!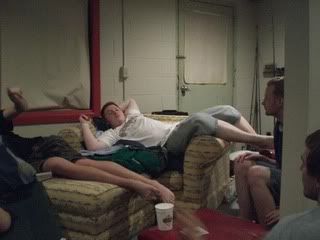 underpantings:
1. Red Wings first baseman Brock Peterson had a hit and a walk. I think I saw Brock Peterson in a movie once. It was called 'Wicked Wicked Cowgirls'.
2. I saw Travis Denker's girlfriend the other day and I was speechless. Travis Denker is not wicked cute. His lady is a blonde bombshell. Completely incongruous. Anyway, Travis Denker was caught stealing in this game.
3. Fernando Cabrera will be back soon, as he was DFA'd. I guess you can't go to the park during that time. Why not? That's so dumb. What if he wants to work out and take a shower or something?
4. Bubba Bell totally fucking sucks.
5. 10,700 freaks came out to see TW pitch. Rick Medeiros secured the area. No one was getting near Wakefield with him around, pard.
6.
This newspaper says
"The release of Duncan coincided with Pawtucket's 10-game losing streak. Duncan was 0-for-1 as a pinch-hitter in a 5-3 loss to Rochester on Thursday." They may be onto something. As soon as they ditch Duncan, they break the losing streak.
I have no where else to go with this. Whenever some big star rehabs at McCoy, everyone else is overlooked. You would at least think someone would talk about Dustin Richardson's good, good work. But what do I know?
TJ LARGE!!!!