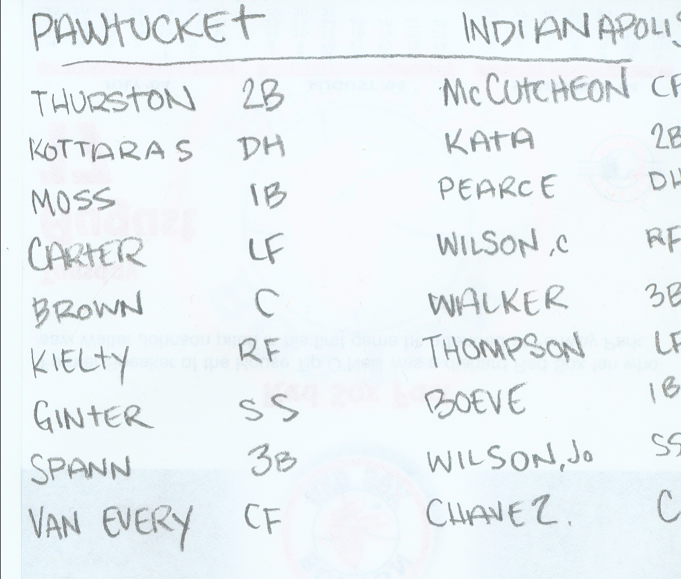 Indianapolis WINS! 3-0. Eight games against the
Indians
in 15 days? This is not what I wished for when I blew my candles out.
I'm also not satisfied with the visual quality of the lineups I post.
David Pauley started, pitched six innings... whoa, hey, slow down! SIX innings? 68 PITCHES??!! When did Dusty Brown get a job for the PawSox? Can we not tax our starters like this? That's how arms get blown out!
Yeah, so Pauley gave up one run on four hits. It was a patented very good Pauley start, in its own triple-A way. Will he ever break on through to the other side? Probably not, unfortunately.
Jon Switzer struggled and gave up the other two Louisville runs. Dan Kolb kicked in an inning and 2/3 of scoreless goodness, but what for? Hey, I'm not mad.
Massive righty Ty Taubenheim pitched six scoreless, striking out six and walking three. Hats off also to relievers Jesse Chavez and Massachusetts man Jonah Bayliss, who kept Pawtucket from scoring.
Bobby Kielty is still struggling... he went 0-4, striking out thrice. Ach. Joe Thurston and catcher Dusty Brown both doubled. George Kottaras continues to have success out from behind the plate. He's been DH'ing lately and hey, it's working out for him. He doubled in this game. SEE? Being a catcher is ruining his life! Release him from the restrictive gear! Stack him high, watch him fly! Age ain't nothin' but a number!
First baseman (?) Brandon Moss made a fielding error in the eighth. Dan Kolb tossed over to try and pick off the speedy and talented Andrew McCutcheon and Moss couldn't handle it. He is still working on it. Brandon Moss is one of the nicest guys to play in Pawtucket and they're torturing him, I swear. I get what they are trying to do, but it's so hard. On me. The organization should try harder to do what I want. I have to
have things my own way
...
Hot, young, naked Pirates prospect Steve Pearce was game champ with a pair of doubles and an RBI. Some other Indians got some hits and made some good defensive plays. I don't care and neither do you.
I wanna tell you a little story that makes me warm inside:
1. This game lasted two hours and five minutes. Viva los minor leagues!
2. Dan Kolb balked. I never spot balks. Some of them are so slight and imperceptible!
3. Abe Alvarez is spot starting today for D. Hansack, who has a golf ball sized knot on his arm, just above his elbow. Game time: two pm. I like listening to the game on the radio... Hoard and Hyder do a great job.
4. Jonah Bayliss is from North Adams, MA. Here's a
video of him talking
about trying to make the Pirates. I won't comment on the headband. Hey, it's spring training. Hey, I went to that park!! YEAH BRADENTON!!!!
5. I like Ty Taubenheim.
Post-game quote
: "My slider, which I refer to as 'Knightrider,' was really working tonight." Dude, come back to New Hampshire!
6. The Boston R. Sox are also playing a team called the Indians. I haven't been keeping up since I got the Extra Innings package. I've been furiously watching National League baseball. It's good to see some new people! But I heard Jed Lowrie had a great night...
Today is American role model Ian Mackaye's birthday. He's 46! WHAT?! I was too young to see Minor Threat, but I did attend 2-3 Fugazi shows in Providence. One night at Lupo's... it was steaming hot in there. Almost at fainting point. You know how hot it'd get at those summertime shows. And Ian Mackaye was yelling, "Don't put on the air conditioning! Leave it off!!" I don't know why but it made so much sense at the time. Fugazi sold out like every time. Remember how they vowed to never charge more than five dollars for tickets?
Also you know who clothes, hats and shoes would always fly up out of the pit? I remember Ian Mackaye holding up a sneaker, looking for its owner... "I have a shoe..."
I could talk about this all day.
But I must be moving on
.