Pawtucket WINS! 6-5 and it is unbelievable.
I'm gonna preface all of this... I mean, I gotta apologize... I was reading some of my older posts and they were so engaging, funny, insightful and clever... and lately there's been a decline in post quality... I mean, I admit it, I've gotten kind of lazy. I'm going to try harder, I promise. I could blame the team and their lackluster performance but let's face it - aren't the PawSox a red herring? I mean, if it wasn't them, it'd be something else. I'm just being a show-off and filtering it through a conveniently located minor league baseball team.
And it's not like I'm accountable for anything, either. Chris Carter is not stepping up to me and telling me to shut my headhole. No one's ever told me to pipe down. As far as I know, no one knows about me. I once called a pitcher an unconvicted necrophiliac, FCOL. I brought up another player's drinking problem.
My point is this: FUCK YOU, HUNTER JONES! I HOPE YOU DIE! I HOPE YOU FUCKING DIE!
Your heavenly Pawtucket starter tonight was Randor Bierd. It was Bierd's second start for Pawtucket, and golly, it was a good one. Bierd pitched 5 1/3 innings and the Knights did not score one run. Oh, sure, they got three hits, but only ONE was for extra bases. Blame catcher Tyler Flowers for that one.
And then the unspeakable happened: The worst reliever in Pawtucket came in for Bierd. I am speaking, of course, about Hunter Jones. Jones trotted his punk ass out in the sixth inning and got the last two outs. Okay. Jones killed the seventh inning, too, three up/three down. But the eighth inning came like a crate of bad milk and Jones gave up a two-run to Keith Ginter. Keith Ginter!
And then Negron walked, Lillibridge doubles, and Josh Kroeger hits a two-run double. And that was the end of the night for Jones. Pawtucket's 4-0 lead became a 4-4 tie.
Marcus McBeth came into the game with no outs and a runner in scoring position. McBeth managed to escape with only one more run scored, but the Knights got a 5-4 lead.
Oh, but hang on. Top o' the ninth, Bubba Bell doubles to right. Crazy, right? Then Mark Wagner hits an RBI double and the game is tied! WHAT IS THIS?
McBeth, Lopez, and Large all kept the game tight. Here come McBeth... walkin' in the place along with L. You know what I mean? And Large was cool...
Real cool. Large got the win when Chris Duncan doubled and scored on a passed ball. Tyler Flowers, you ignorant slut.
Last reliever standing Fernando Hernandez got the loss for Charlotte. Fernando. Hernandez. Way too much 'Ernand'. Also: Who?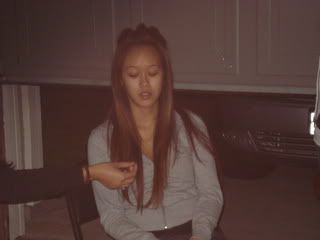 i can show you some of the people in my life:
1. Okay, so maybe Hunter Jones was a victim of overextended relief and I should blame RJ. But I'm mad at Jones in general for his shabby treatment of Pawtucket fans and for his shit attitude at Poster Night. I'm petty like that.
2. Bubba Bell doubled AND tripled. I love triples! Is Bell out of his slump?
3. After Zaleski, five other guys pitched for the Knights. Guys like Van Benschoten and Wahssermann. Throw in Jiminez, Rodriguez, and Hernandez and you've got some kickass Scrabble scores.
4. Aaron Bates hit a two-run homer in the fifth. Bates is a big, strong boy and should do crap like this more often. Yeah. Or I'm calling his mama!
5. Brian Anderson was picked off and caught stealing.
6. This game had some crazy defensive subs. I think Sean Danielson pinch ran for someone. So hazy. Denker went from second to third to second again. Natale pinch hit. Ochoa came in late but didn't get an at-bat. Keith Ginter switched teams and played third base for Pawtucket for old time's sake.
7. Jeff Bailey, hit by a pitch! Just like the good old days!
It's so late now. Too hot. Tomorrow...