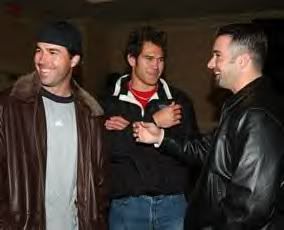 Right now, NESN is showing a "Classic" Red Sox game from 2003, in which the Hug-A-Bunch guys wrangle with Tony Batista and the Baltimore Orioles. This is an early DO walkoff game, but what stands out even more for me is that Boston was down 5-2 in the ninth and Uncle Todd Walker hit a beaut of a HR into the bullpen, scoring those crucial three runs.
I was at this late-in-the-season game with my sister Vanessa. Things were getting tight with the Mariners and the WC, so it was a game of some importance. I was originally supposed to go with some crazy lady I worked with, but at the last minute she just handed me the $18 bleacher tickets and said, "I can't go."
We got there pretty early and it was POURING. We didn't even know if the game would be played. We pigged out at Burrito Max... and, oooh, I am still mad that they're gone... the skies cleared up somewhat and we headed in. Game, game, game and then Todd Walker homers... it didn't even look like it was hit that hard. The whole time the ball was travelling, I wasn't thinking HR. And then it sailed into the bullpen and we all went crazy.
They interviewed Walker after the game and it was broadcast over the system in the park again and again, on the PA and on the JumboTron thing. Second best game I've ever been to.
I'm so psyched that this game is on. Brook Fordyce, catcher! Adrian Brown, stealing 3rd! Grady Little in the dugout! Bronson Arroyo's THIRD appearance in Boston (as a reliever). BK KIM!!!!!
kbye
-------
Phil: "You guys shoulda been at Gasworks Friday."
Wayne: "Yeah, we were."
Phil: "This band, Crucial Taunt, they had this megababe lead singer... unreal!"
Wayne: "Phil, we were there! Have you gone mental? Hello!"