Pawtucket loses 6-0. They just cannot drive runners home.
Michael Bowden had another dodgy start. The problems arose immediately in the first inning... the first two Bats worked Bowden deep into their at-bats even they both resulted in infield pop-ups. Then came the legendary Darnell McDonald, who said hello and homered. A little later in the first inning, Danny Dorn hit a two-run single. Three runs in the first= a probable loss for Pawtucket.
Bowden pitched four innings and started to work the fifth, but after a double and a single he was yanked for Randor Bierd. Bowden gave up all six Louisville runs, three of them coming via the long ball.
Bats starter Homer Bailey made it seem so easy. Bailey pitched eight shutout innings and for a second, I thought he'd come out for the ninth. Bailey racked up eight strikeouts and only two walks. Pawtucket had a few scattered singles and that was it. Great start for H. Bailey.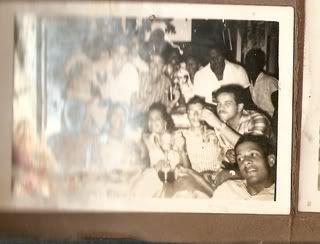 travis denker, he was on there, he was waiting for me:
1. Nine runners LOB for the R-Sox.
2. Randor Bierd! My first time seeing Bierd pitch and it was pretty good: three scoreless, good good innings.
3. Rocky Cherry continues to pare down his ERA with two more scoreless innings. He has not given up a run since May 18th.
4.
Recently I mentioned
how Fernando Cabrera often looks like he's about to doze off in the dugout. Well, tonight it actually happened. He nodded off during the game. Being a fine-ass closer must be exhausting.
5. I feel fortunate to have had the chance to see Homer Bailey pitch. He kind of looks like a vampire, even though I know there are no supernatural occurances in Texas.
6. Jeff Bailey is back in town and in relatively good spirits.
7. Sandy Madera is on the disabled list and back to work as the bullpen catcher. Are you kidding me? I hope Boston's saving a lot of money by not hiring an actual bullpen catcher.
8. Kevin Barker, still hanging in there. I'm sure this guy will eventually end up in Pawtucket.
Tomorrow! Justin Lehr and Enrique Gonzalez! I would love to see a strong start from Gonzalez. Maybe I'll go to the game!