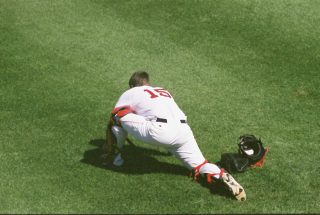 Forgot to mention, Dusty Brown's in Boston and Mark Wagner's at McCoy. I hadn't even noticed, really. Dusty Brown is so uninteresting I might have to start calling him Dusty Beige. Now Mark Wagner, there's a catcher you can set your watch to!
We could really use Van Every back. I hope he's a quick healer.
Robert Coello's
with single-A Salem
. They probably make him go on all the beer runs.
I have a sinking feeling that Ivan Ochoa is in the trunk of someone's car down in the Florida keys.