2-1 Pawtucket! WHAT? YES.
Lefty Durham starter Carlos Hernandez struck out five PawSox batters through six innings while only giving up one run, that being Chip Ambres' RBI double in the fifth. CHIP!
The Red Sox countered with sizzlemeat Clay Buchholz, who was less than sharp tonight, although the only run he gave up was Jaso's solo homer. Buchholz ran his pitch count up to 92 through five innings and walked three Bulls hitters. Buchholz kicked off the sixth inning by giving up a single to Bulls catcher John Jaso(n) and a subsequent walk to Rashad Eldridge. It was obvious that CB was all done so Marcus McBeth came in.
McBeth? Two scoreless innings. Lefty Hunter Jones gave up a pair of nervous-making hits in the eighth, but came out smelling like a rose. And the always dependable Rocky Cherry wrangled the ninth inning, keeping up with the whole scoreless relief thing.
And so with the teams KNOTTED up at 1-1 in the bottom of the ninth (Not "nodded", PawSox updater! Geez, read a book.), it all came down to Chris Carter and the Middle of the Order Crew. Carter immediately popped out to the catcher. Aaron Bates was up next... and he doubled! Bates' first ever Pawtucket hit! The entire park (all 412 wettish fans) burst in a collective prospect O.
The zippy Freddie G pinch ran for the lumbering Bates. Van Every was next and Durham reliever Jason Childers gave him four.
Next batter, catcher Dusty Brown. And Brown went so deep to right, I swear, it was almost in the Pawtucket bullpen and could have hit Javier Lopez in the solar plexus. But instead, the left fielder swiped at it and it fell in for a double and Guzman ran home to win the game 2-1. And they were all so merry. It was a fine, fine day (for a reunion).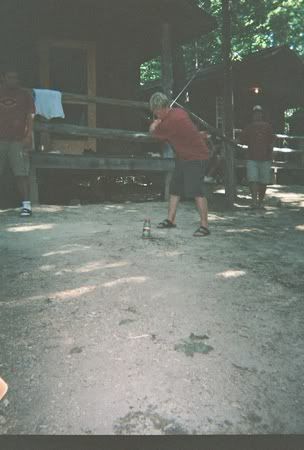 two things:
1. Also getting his first triple-A hit: Durham Bulls kid Rhyne Hughes.
2. Jonathan Van Every's back in the lineup and the kid had a great night. He walked twice... well, three times if you count the IBB... and made a killer play in the ninth behind Cherry. And god, we need his bat.
3. Angel Chavez went 2-3 and made a balls-out catch in foul territory in the ninth. It was very exciting for me and possibly for him.
4. Jeff Bailey continues to be a hacking mass in the past couple of games. Bad, bad slump.
5. Hunter Jones has become somewhat tentative and fretful on the mound. This in turn makes
me
nervous. He did blow a three run lead in Sunday's game, so he needs his sea legs back.
6. Hyder's post-game interview was with Brown. Fair enough, he hit the walk-off double. I would have preferred Bates.
7. Master. Uh huh huh huh.
Tomorrow! Day off for Pawtucket. Then Syracuse, god help them.