15-5 Red Sox! Yes, of course we're serious. Even though five runs generally equals an early grave for Pawtucket.
Your noted fashion photographer and righty triple-A guy Enrique Gonzalez got the start for Pawtucket, but since this was a Syracuse joint, I'm switching over...
... to Chiefs starter Scott Olsen, with his jeans on and his team strong. Wait, the dude from the Marlins? Yeah, him. Except now he's in the Nationals org. Scotty O: Three innings, four hits, two earned runs, two walks, two K's. Olsen is rehabbing so his outing was short.
Then this guy Saul Rivera came in for Olsen and ruined everyone's lovely day at the park. Rivera gave up eight Pawtucket runs in 2 2/3 innings. If you let a weak-ass Pawtucket offense score 8 runs, then you have serious problems. Saul Rivera, check yourself in.
I really want to wallow in the pain of Saul Rivera, so here we go to the fourth inning. Here comes messy baby Travis Denker, second baseman. Denker hits a single to left. Gil Velazquez doubles, Denker to third.
Then: "Angel Chavez reaches on a fielder's choice out, shortstop Pete Orr to third baseman Kory Casto to second baseman Seth Bynum to shortstop Pete Orr. Travis Denker scores. Gil Velazquez out at 3rd. Angel Chavez to 2nd on the throw." So it looks like Velazquez was caught in a pickle, right?
Bailey and Guzman then both grounded out to end the inning.
Pawtucket, fifth inning: Chris Carter, who I absolutely adore and admire, flies out. Big boy Aaron Bates tops that shit with a single to center, because Carter is half the man that Bates is.
Paul McAnulty gets the second out in the fifth with a flyout, Bates sneers from first. And then the awesome starts. Human bobblehead and exciting catcher Carlos "Magic" Maldonado singles, moving Bates to third. And an unassuming Travis Denker hits an RBI single! Gil Velazquez follows with a blooper that scores Maldonado!
Skip to the sixth inning, tied at 5 after Syracuse scored three runs off Gonzalez in the bottom of the fifth. The speedy Guzman grounds out to kick things off. Chris Carter, Aaron Bates singles. Runners at the corners with one out. Paul McAnulty does a good thing and doubles, scoring Carter to give Pawtucket the 6-5 lead.
Carlos Maldonado lumbers up to the plate, and I feel so sorry inside that I haven't seen his work in person. Rivera gives him four for the intentional walk, because CM is a beast. Bases loaded, one out. Travis Denker's up again and he grounds into a force... Bates out at home.
Two outs, bases still loaded, and Velazquez reaches on an error. Another run scores and Rivera is OUT! Logan Kensing takes over.
Kensing faces Angel Chavez. Chavez greets him with a three-run homer. CLOSE THE WINDOW, CALM THE LIGHT!!!
Fizzle: Bailey grounds out to end the inning.
Pawtucket went on to score two runs in the seventh and two runs in the eighth. There is so much more I could say but I'm too lazy.
The win went to lefty Billy Traber. And his Amazing Square Head, of course. And what about our friend Enrique? He gave up a couple of home runs in his 4 1/3 innings and struck out five.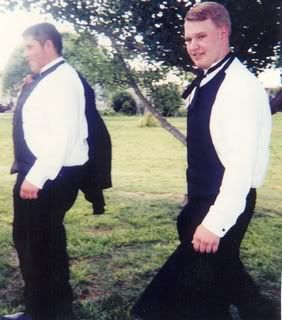 I like coffee and I like tea!
1. Also in the pitching mix for Pawtucket: The Volcano and Doctor Jones.
2. Also pitching for Syracrap: Wilfredo Ledezma (!), alleged weirdo Corey Doyne, and John Poppert. JOHN POPPERT??? Damn, girl! He plays the harmonica AND pitches!
3. Double trouble: Velazquez, Guzman, Carter, and McAnulty all doubled. I had to use "double trouble" just once to see if I felt like a corny sportswriter! Instead, I feel cheap.
4. Carlos Maldonado should play more. I say this because Dusty Brown is totally boring and predictable.
5. This game was played at Doubleday Field, which is a darling little park that can't contain the unstoppable force of Angel Chavez.
6. Ryan Langerhans and giant first baseman Brad Eldred homered for the Chiefs.
7. It's fitting that the Nationals' triple-A team plays in a shithole like Syracuse.
8. Is Gustavo Molina another brother? I think the New York Times should do a story on this woman, the mother of the Molinas. She's much more interesting than Jason Varitek.
I'm done with this. PawSox back in town tomorrow. Walk on the ocean.