Louisville WINS! 3-1. Pawtucket starter Adam Mills in wearing the L. On his sweater, like Laverne.
The Bats opted to throw lefty
Ben Jukich
on the mound to start last night. Jukich didn't pitch too long (4 1/3 innings) but his pitch count was up to 84 so that may have been a factor. I am going to look that up later.
The PawSox couldn't get a run off Jukich until the fifth inning, when catcher Gustavo Molina hit a solo home run. When is Mark Wagner coming back? Anyway, without that home run, Pawtucket would have been blanked. So Molina gets the biggest piece of cake in the clubhouse.
Then manager Rick Sweet threw in a
mess o' catfish
to pitch the rest of the game:
Carlos
Fisher
, Joseph "
Texas
" Krebs,
Jared
Burton
,
Bill
Bray
, and
Jon
Adkins
. Wow, those guys sound like some exciting hot prospects! But seriously... the relief corps only allowed one hit between them. And it was a single. After the game they celebrated by going to Slater Park and riding a bicycle built for five.
Red Sox starter Adam Mills got six innings in and can be blamed for the three Louisville runs. Robert Coello is BACK! and he worked the final three innings. He walked three Bats but didn't give up a hit. I don't care much for bases on balls or the restrained grimaces they evoke on relievers faces. But Robert Coello is back! Wait, was he ever here?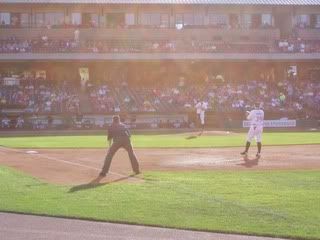 migajas:
1. Louisville Bats walked 10 PawSox batters. Way to take advantage, Velazquez, Sanchez, Anderson, Bates, Reddick, and Jimenez! You hitless motherfuckers!!!
2. Bill Bray
is rehabbing
for Cincinnati. Reliever Carlos Fisher got the win.
3. Yonder Alonso and Zack Cozart
each hit a double
for Louisville.
4. Ooooh! Bats reliever Jon Adkins is
four away from being the all-time saves leader
in Louisville! YEAH JON ADKINS!!!! I can't believe I have never heard of this
guy
!
Tonight
! Kris Johnson v Matt Maloney. Oooh, steamy! Have fun!
JON ADKINS!!!!!