Pawtucket WINS! 2-1. And tonight we are going to find out exactly WHO the very mysterious Don Kelly is.
Enrique Gonzalez continues to be better than Edgar Martinez. Gonzalez pitched eight innings! OHMYGOD! Eight shutout innings with eight strikeouts.
Opposing pitcher Chris Lambert went seven deep and gave up both Pawtucket runs. In the first inning, with two outs, designated hitter Chip Ambres doubled... and then crossed the plate when Chris Carter hit a subsequent double. Merry Chip-Chris! (I'm sorry.)
Sean Danielson led off the third inning with a walk (current OBP: .323. Two weeks ago: .258. Okay, I made the last one up. I will deduce April OBP v. May OBP soon!)
So, Danielson at first via walk. His April OBP was .208. Thus far in May, it's been .438! Danielson had only one walk in April. So far this month, he has 9 walks. Can you tell that I love Danielson?
Van Every grounds out next, advancing Danielson to third. And a Chip Ambres sac fly brings him home. MVP! MVP!
Bottom of the ninth, Pawtucket ahead two-zip. Sex bomb reliever/new closer Fernando Cabrera comes in and does something very, very naughty: He allows Mike Hessman to immediately homer off him (HESSMANIA!!!). Cabrera is a very bad boy!
With nobody out, mysterious outfielder Don Kelly squirts a single over to right. Thousands of Toledo fans have their hopes restored. Kelly steals second. The crowd stirs, begins to rumble and cheer. Can you hear the drums, Fernando?
Next batter, Ryan Roberson (who needs a haircut, thank you very much). Roberson strikes out! Pitching coach Rich Sauveur comes out for a chat... rrrowr! Cabrera sacks up, strikes out Dlugach AND Dusty Ryan to end the game. And that is why he is hot - because he's fly.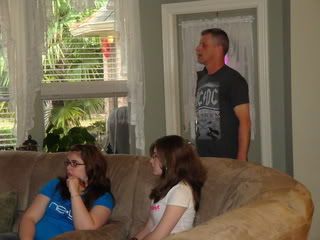 don kelly, please believe me. i'll never make it alone:
1. Don Kelly is 29 years old. He was drafted by the Tigers in 2001 (8th round). He's from
Pennsylvania
.
2. Don Kelly's an
infielder
playing the
outfield
.
3. His brother-in-law is Pirates prospect Neil "Margin"
Walker
.
4.
DK
has had a couple of cups of coffee with the Astros and the Pirates.
5. Don Kelly
went
to
Point Park College
.
6. Don Kelly believes
the lord has a plan for him
. Oh, dear.
7. Don Kelly once had to be
hospitalized
after being hit in the head by a relay throw. The Lord was hoping he'd recognize the plight of underpaid nurses, I'll bet.
That's it! Early game in Toledo tomorrow, 10:30 a.m. For the kids, see.