Pawtucket keeps f-a-i-l-i-n-g! They lose, 5-4. And I think someone's got a crush... the Chiefs and the Red Sox have been spending a lot of time together this summer! Whooo, sexxxy!
Righty Clay Buchholz started for Pawtucket. Buchholz was doing fairly well until about the sixth inning. He walked Mike Morse... and then made a throwing error on a pickoff attempt, which moved Morse to second. Eldred sac flied, moved Morse to third. And then like, Kory Casto singled? KORY CASTO? First of all Kory with a 'K'? Secondly, Casto was playing right field... I thought he was a third baseman or something?
Anyway, Casto gets the RBI. And Buchholz gets the hook. McBeth comes in to face Seth Bynum, and while McBeth is busy pitching to Bynum, Casto nervily steals second base. Bynum singles, runners at the corners.
And here comes mega-talented Justin Maxwell, with the brains and the brawn and making lots of money. Maxwell flies out to center, Casto comes home... Guzman hucks the ball in to second! Bynum out! Denker fires over to Velazquez at first! Maxwell out! Double play! But it's 5-2 Chiefs.
Bottom of the ninth. Still 5-2 Chiefs. Pawtucket doesn't have a chance... or does it? (Well, no.) Logan Kensing comes in to shut it down for Syracuse. And Jeff Natale comes in to pinch hit for Gil Velazquez. Kensing immediately intentionally walked the dangerous slugger to get to Angel Chavez. AH HAHAHAHA HAHAHAHA!! OH MY GOD, HAHAHA HAHAHA!!
I'm sorry, but that is an absolute panic. I guess RJ wanted Natale to get hit by a pitch, but instead Natale struck out swinging.
Angel Chavez was up next, and I guess he sneezed weird or something but he doubled which is really out of character. And then Freddy Guzman hit a home run! I can't believe it! (Velazquez should have probably stayed in the game but maybe he had a plane to catch.)
And finally, some sad news: Jed Lowrie struck out and Mark Wagner grounded out. Third loss in a row for the Little Bats That Couldn't. And... ALL-STAR BREAK!!! FEATURING FERNANDO CABRERA!! Jolines!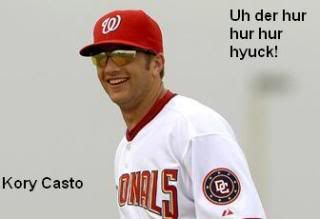 two things:
1. It was Freddy Guzman's first home run. I am embarrassed for Pawtucket and I want to apologize to Guzman for being such a lifeless team. Guzman is like fire and the other guys are like ice.
2. Cabrera's inning was all dirty with a walk and a hit and 22 pitches but he didn't allow any runs. McBeth and Javier Lopez also pitched in for scoreless relief.
3. It was front page news in the local paper when Buchholz' rims got jacked the other night. That sucks, but didn't Clay Buchholz steal laptops from a school or something back in the day? I'm just saying.
4. Congratulations to Clay Buchholz on getting called up!
5. Gil Velazquez hates playing first base! I can't believe Jeff Natale pinch hit for him. That had to be a favor to GV if I ever saw one, because Natale a pinch hitter? Come on. How dumb do you think I am?
6. Trading Buchholz +one for Halladay is so, so stupid. Even I know that.
7. Jose Vaquedano is
taking Buchholz' All-Star spot
. I like Vaquedano a wicked lot so I am glad for him. : ) And the funniest thing about this story is that he'd planned to go to Newport with his girlfriend during the break. Newport? What is he, your grandparents?
Enjoy your All-Star break. I have some really exciting stuff planned, like listing uniform numbers and crap. Yeah.