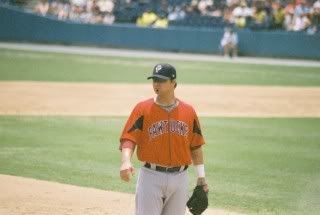 I came across this quote on the internet: "The Giants were disappointed in the performance of Travis Denker, he was clearly overmatched during his time in San Francisco and didn't endear himself to the organization or to his teammates with his attitude." This was according to Giants news blogger Andrew Baggarly.
Many
fans
were mystified when the
Giants put Denker on waivers
in the 2008 off-season. His stats and potential were not bad...
what the hell was the deal
? Was Denker that much of a pain in the ass? The
Padres
wound up picking him up.
"Being in 30-degree weather every day doesn't help,"
Denker said
, referring to his
Connecticut
stint. "I really didn't feel like hitting when I was there." Bold statement, but cut-worthy?
"we will make a copy of the list in case something happens to the first list"
1.
TRAVIS DENKER
IS NOT FAT! He also does not work out with C. Carter.
2. The Red Sox
picked up Denker
this past April after the Padres DFA'd him.
3.
Denker
began his baseball life as a
Dodgers baby
.
4. But the Giants got him in a 2007
trade for Mark Sweeney
.
5. In 2005, Denker was the
Sally League's all-star second baseman
.
6. Just
read this
. It's pretty thorough.
7.
Travis
Denker
ripped it up
during the single-A San Jose Giants post-season.
8.
Denker
made
national television
with a triple play he participated in while on the triple-A Fresno Grizzlies.
9. Ron Johnson is more than happy to tell Denker
he sucks
.
10.
Tangential
, but also really funny: "Travis Denker is a quality second baseman for a Red Sox minor league affiliate right now, but we're told he has a bright future."
11. Denker has seen major league playing time with the
Giants
.
12.
Denker
is not as much a utility infielder as
he
is a guy that can play second base.
13. Denker was once part of a
skateboarding tour with sponsors
and everything.